2012 Norco Trail Bike Shoot With Silent Norco Racing
The fall is my favorite time of year to ride and shoot.  Perfect temperatures, beautiful foliage and no bugs make this the ideal time to be on the trails.  Yesterday I met up with Jeff, Mike, David and Rob from the Silent Norco Racing team for a photo shoot aboard some of Norco's killer 2012 trail bikes.
It's been a crazy summer and, as a result, I have had to compromise one of the things I love the most, mountain biking.  I normally average about 60-70 rides in a season but this year I haven't been out once.  Not gonna lie, I am bummed about it but it was a sacrifice I had to make to pursue other opportunities in my life.  This was going to be my first ride of the season and I was really looking forward to it.  I was also excited about this shoot because I was going to be testing out new camera mounts for some point of view photography.  I have been wanting to do a shoot like this for some time but it's quite a bit more involved than a regular shoot and took some planning.  I was booked with gigs all summer and I have been looking forward to this time of year to get out and shoot projects for myself.
I met the guys at one of my favorite riding locations.  It's not that well known but I know it like the back of my hand.  I spent an entire summer in that forest mapping it from end to end with my GPS.  My riding buddy at the time, Bob Bonner, was on strike and we called it "The Tour De Strike".   We spent hours upon hours getting lost in there.  Probably one of the best summers of my life.  These trails are some of the most perfect in Ontario.
Jeff brought along some of Norco's 2012 trail bikes including the Range and the Sight.   I think it's safe to say that Norco has knocked it out of the park on most of their 2012 bikes but these trail bikes are truly incredible.  My order is in!  Watch for a complete review from me soon.  I'll also have a more detailed how-to and behind the scenes report on this and other POV shoots later this year.
The guys met up with me at about 8:00 and we started along the trail to some of the locations I had in mind.  I really like using strobes but there is nothing I love more than a perfectly lit shot using only natural light.  For this shoot, I was going to try and capture the feeling of trail riding and the beauty of the trails themselves.  I still packed four SB-800s but stuck to my plan and resisted the urge to light it up, even when the light proved challenging.  The light was pretty flat and high winds didn't leave much time to grab a shot, even when a patch of blue sky did rolled by.  I was a bit discouraged but the guys worked so hard and really made it happen.  They were watching the light as closely as I was and the minute it broke through, they would sprint in chasing after it.   Shafts of light would catch them here and there and we kept at it until I got the shot.  We worked a few locations and eventually made our way to a ridge-line I thought could look good.  It was slightly better exposed and the light came in along side of it nicely.  For the POV images I really wanted some sunbursts and lens flare and this location provided that.  Jeff was a great pilot with the mounts on and the rest of the guys did an amazing job.  The light wasn't "perfect" so I didn't get to try all the things I wanted to try.  Shooting is a lot of work for the riders and I didn't want to ask them to work any harder if I knew the shots weren't going to be mint.  I learned a lot from this first shoot with the new mounts and am already pining to get out again before the leaves fall.  Here are a few of the shots from the shoot.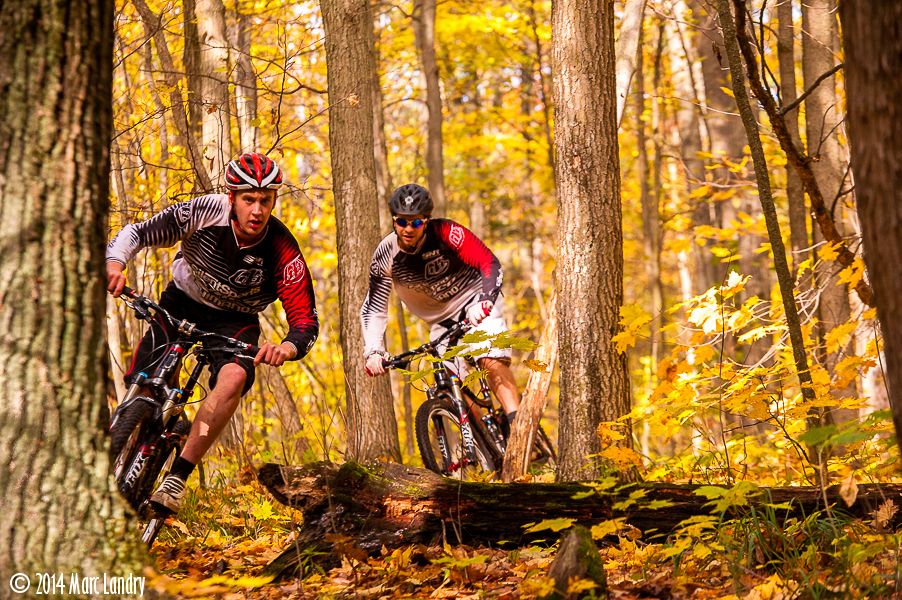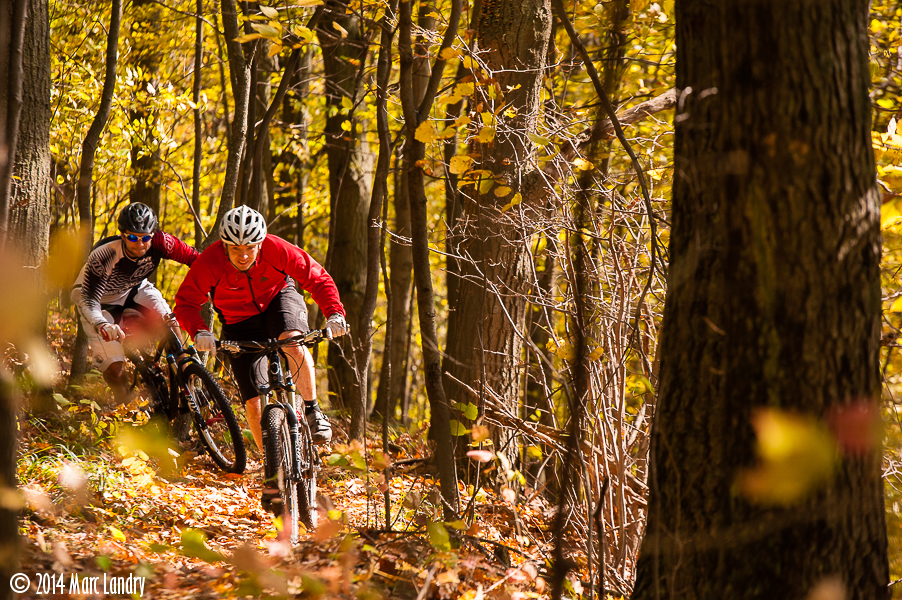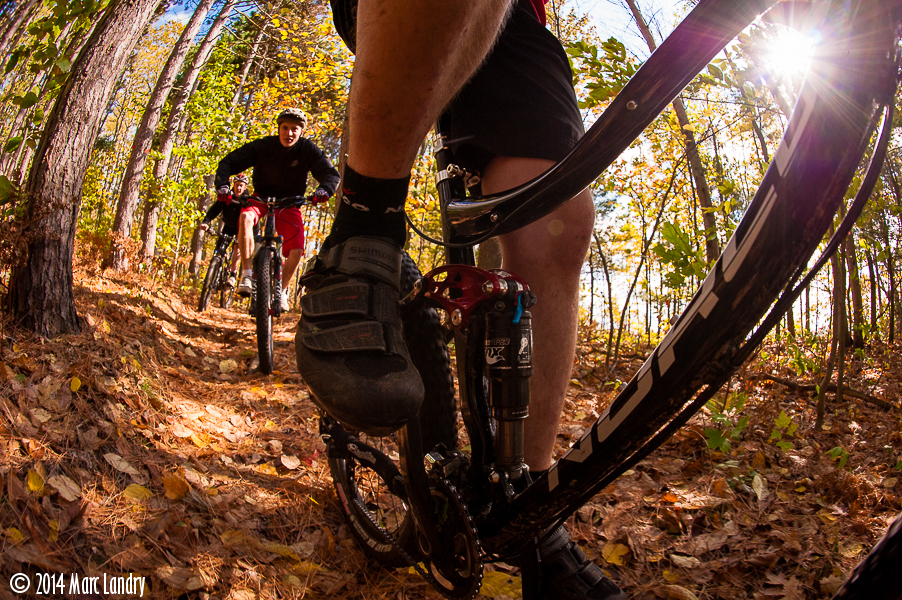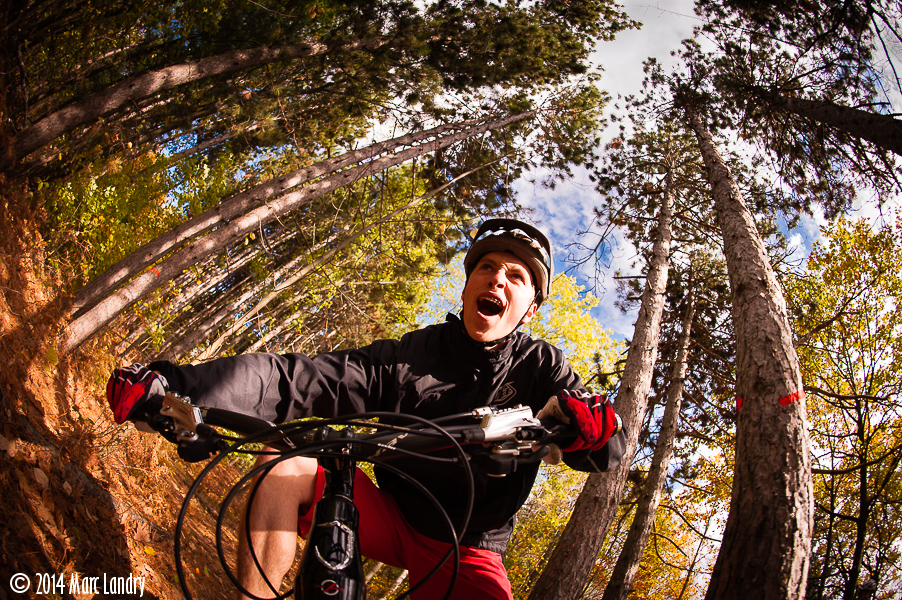 I can't thank Jeff  Faulds enough for the help.  Such a good person, always willing to help.  Thanks Mike, David and Rob for working so hard for the shots and helping with my second bag.  You guys rock!  Thanks to Norco for lending us these sweet trail bikes to play in the woods on.  Can't wait to get my hands on mine.
I had an amazing day out on the trails and was lucky enough to relive it while seeing the expressions on the guys faces during editing.  I think they had fun as well.  Already looking forward to getting back out this weekend.  Wheels are spinning…