2014 Toronto Supercross Photo Report
This weekend I was on assignment covering round 12 of the Monster Energy AMA Supercross at the Rogers Centre in Toronto.  Recent regulatory changes have made it such that we are no longer able to recieve any sort of TV coverage of the races, which has made following the series a challenge for all Canadian fans. The irony isn't lost that this race takes place at the Rogers Centre.  I was really looking forward to seeing the action first hand and to catch up with friends and colleagues.  I gave up tickets to see the Leafs vs. Habs game at the adjacent Air Canada Centre to shoot this race.  Might have to hand over my passport for that one?
This would be my first time back shooting with friend Ryan Gauld for his new site, Guaranteed MX.  Gauldy and I have worked together extensively in the past and it was great to be collaborating with him to cover this event.  Ryan's new site is killing it and I was stoked to help him out.   Ryan just recently had a baby so was at home enjoying his new family.  Congrats buddy!  You can read Ryan's full race report on his site.
I have shot the Toronto Supercross for a few years now and have it pretty much down to a science.  With the brighter lights and greatly subdued pyro show during opening ceremonies, the race is not as challenging to shoot as it once was.  It's not 'bright' under the dome by any means but there is enough light that you have some wiggle room, exposure wise.  I have shot this race with countless camera body and lens combinations but think that this year I had the most optimal setup.  I chose a pair of Nikon D4 bodies and used a Nikkor 300mm f/2.8, 70-200 mm f/2.8 and 14-24mm f/2.8.  I had one SB-900 Speedlight with me as well but never took it out of the pouch.  This is the lightest and most efficient setup I have used to cover supercross.  I've tried everything from a 400mm f/2.8 , 200-400mm f/4 and even a 200mm f/2 with teleconverters, but the 300mm proved the most versatile, which is why it's the go-to lens for most seasoned SX shooters.  I've used it before but this was the first time with a pair of D4 bodies.  On the long end, the 300mm was mint and I shot it wide open at f /2.8 all night long.  It's just such a sweet lens.  I used the 70-200mm slightly less and the 14-24mm for opening ceremonies exclusively.  I normally like a wide lens come podium time but managed to get up high on a berm this year so it was not needed.  Nikon has now announced the D4s and with it comes new possibilities.
Access to the track was the best it's ever been, so was the track itself for that matter.  We actually had a few corners to shoot this year.  The start shot required some sniping but was solid.  The one thing that was lacking from a logistics standpoint, was access to the stands.  I like to shoot opening ceremonies from up high but this year it required using some back stairs or the elevator rather than easily getting in and out from the stadium floor like it typically is. No biggie.
I did shoot a pile 'o frames this year though.  I normally come back from this event with roughly 3k images but this year I was doing some testing and came back with twice that.  Made for a long night of editing but I was happy with the results. It was my first post production workflow test on the new 8 core Mac Pro and I was pretty impressed.   That's a 450 in nerd speak.  I'll have a full workflow article up later this month.
The best thing that happened on Saturday night was what my friends and members of the mountain bike site I run (www.ridingfeelsgood.com) did for me.  The local mountain bike community is a very close knit group, like most sports are.  As mountain bikers, we love everything two wheels and for as long as I can remember, there have always been big groups of guys that head down for this lone Canadian stop on the tour.  I get crazy texts all night from friends, saying they see me, letting me know where they are or asking me to come grab a beer.  It's a good time and I always get a kick out of it.  Just as the main event was starting, I got this text from my friend Bill Graham saying "Let us know when you are over here, we have a surprise for you!"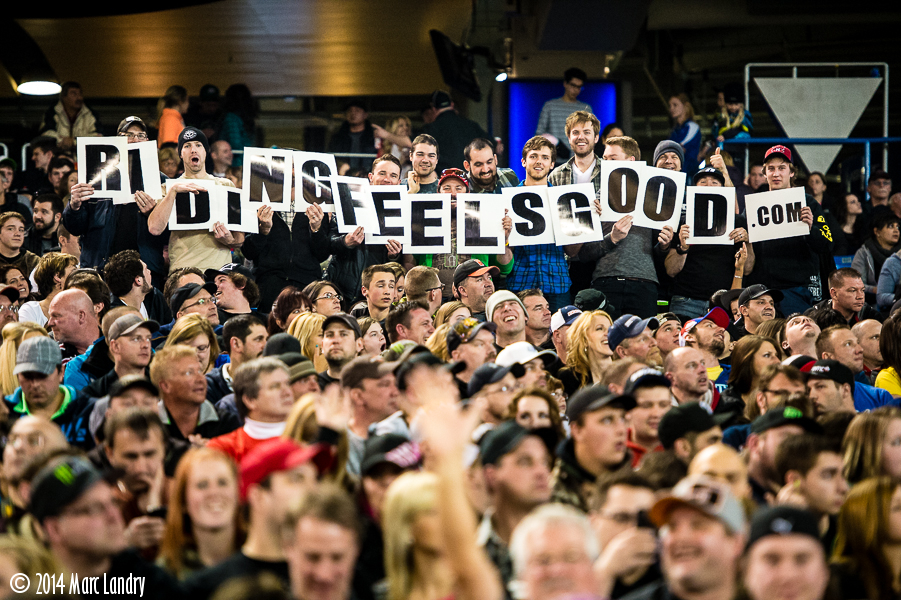 All I can say is that you guys are awesome!  I was blown away.  Watching everyone trying to get the letters in order and line them up was seriously priceless.  I was smiling for the rest of the night.  Thanks so much for the support guys.  Next year I'll have too look at getting us our own section

It was an amazing night shooting the action at the Rogers Centre.  You never really see the race when you're shooting it but I could hear the crowd going nuts and new it must have been good.  When I finally found a feed to watch while I was editing my pics, I could see why, JS7 put on a serious clinic.  I could see from shooting that he had come back from mid pack but to watch him do it was unreal.  It's sometimes hard to be a fan of Stewart.  Not as hard as being a Leafs fan.  The guy has such undeniable raw talent but he is also his own worst enemy.  Seeing him take commanding leads like this in the past only to take himself out is hard to watch.  Deep down, we all love to see him ride, if you love the sport you can't help but be blown away by his skill.  Great to see him come back like he has.
The whole day we were getting mixed feedback on what the situation was with Villopoto.  No one had seen him all day and rumours were that he had serious food poisoning or worse, a burst appendix, and was rushed to hospital.  When he was announced during opening ceremonies, we were floored.  Even after hearing his name and seeing it on the Jumbotron, we were still in disbelief until the doors opened and he appeared.  That mellow roll around the track for the fans would be his only practice that day before the main.  Ryan Villopoto is a champion through and through.
There was a lot of talk throughout the night of the race not returning to Toronto next year.  Depending on who I spoke with it could be for a year or indefinitely.  Something about permanent grass for the ball club.  Let's hope that the alternating year scenario is the correct one.
After packing and unpacking photo gear from a long stretch of big shoots, it's nice to know that the next thing i'll be packing is a pair of shorts as I head off for a much needed vaca with my wife and daughter.  See ya winter!
Here are a few of my selects from the great night of racing in Toronto.