Cole Thompson Cover Shoot With MXP Magazine
Just over a month ago I shot a cover and feature with Cole Thompson.  I've had to wait until now to write my photo report so as not to spoil what I am told is, one of the best issues yet.  I had so much fun on the assignment and have been eager to share some images and write about it ever since.  I recall driving back from the shoot with the article already coming to life in my mind.  It's an awesome team at MXP and, even with a summer full of adventures already behind us, I felt like we really came together on this shoot.   This, combined with the hospitality of the Thompson family, made it a very memorable trip.
It's been my mission this season to get the magazine to warm up to the idea of doing more feature and lifestyle pieces.  Their race coverage is amazing and I felt that incorporating this sort of flavor would balance out the existing content nicely.   At our last meeting, it was decided that the next cover would be Cole and that, much to my delight, the issue would also include a feature on him.  The creative juices started flowing the second the call was made – I was instantly pumped.   The date was set and plans were laid.
Gauldy, Frankie B and I headed out to the Thompsons' house in Brigden, Ontario and were greeted like family.  Lynn Thompson (Mama 'T') already had a feast in the works and it felt like home.  I was immediately reminded of hanging out at my best friend Andrew's farmhouse as a kid.  It felt very warm and familiar.  This feeling was something I hoped I would be able to convey through my images.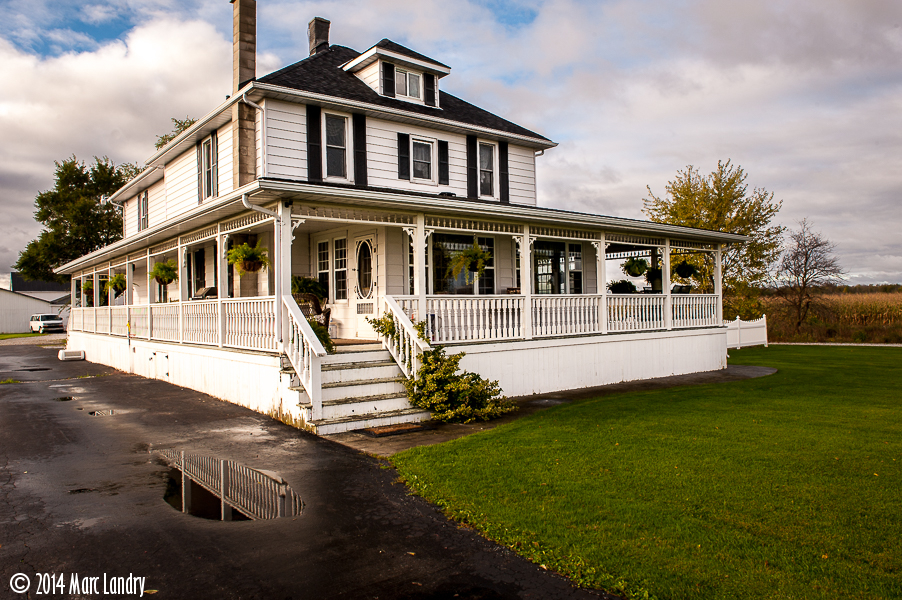 We started off our shoot in the shop.  I liked the look and colours there and already envisioned it as the location that would produce the cover.  I brought my trusty Elinchrom Ranger Packs; two power packs and 4 heads.  I brought a pile o' gear on this one and was happy it all fit in Gauldy's van.  For the shots in the shop, I used all four heads.  I chose my large Rotalux softbox as my key light, a brolly box for my fill and simple reflectors with grids for rim and background lights. Most of the other shots were captured using a single pack with two heads.  I also shot with available light, adding speedlights when necessary.  Cole was great and it wasn't long before the cover was in the can.  We had a bit more time before dinner and I wanted to get some shots of Cole looking out over his track.    I just really liked the light and composition possibilities the location offered and wanted to capture it.  Here is the sick cover and a few killer double page spreads from the mag.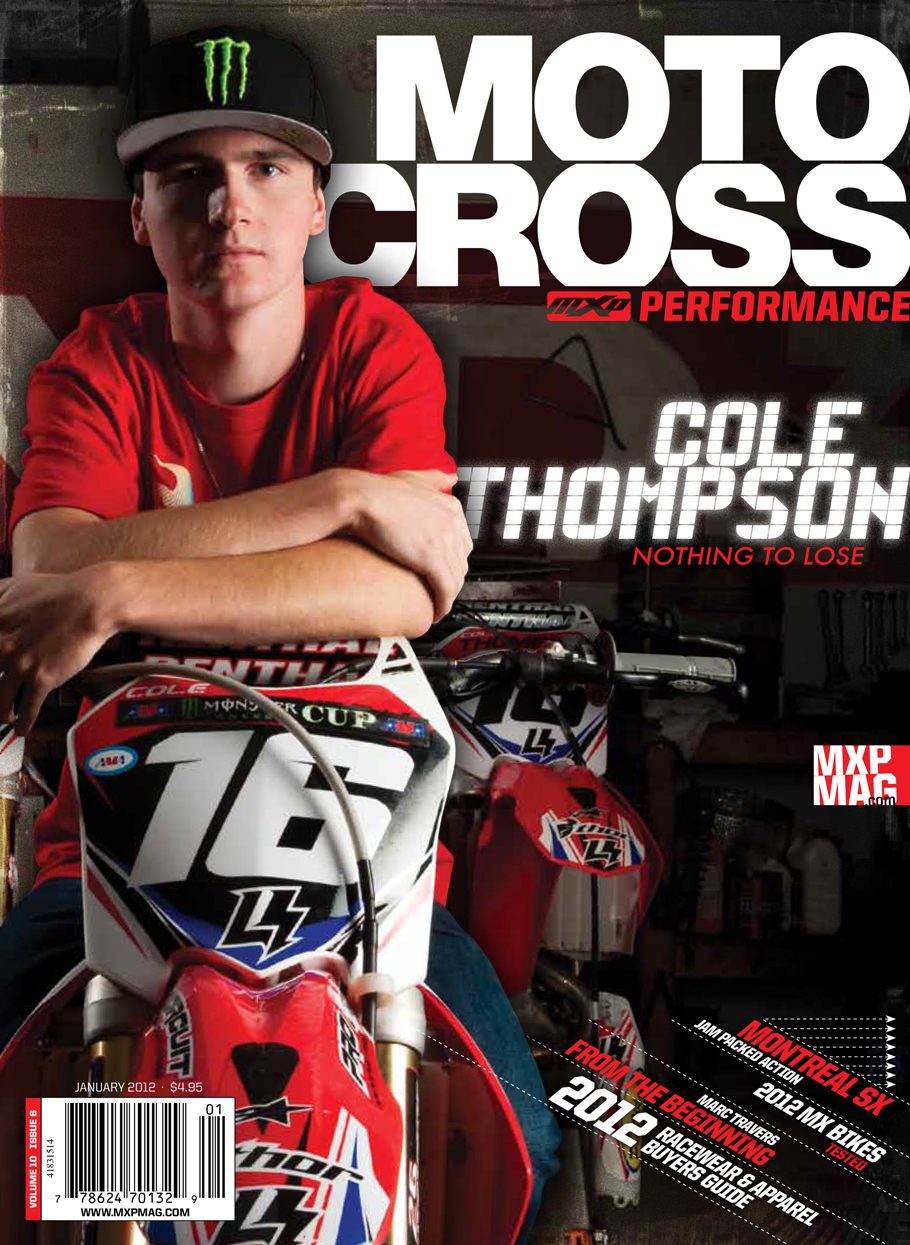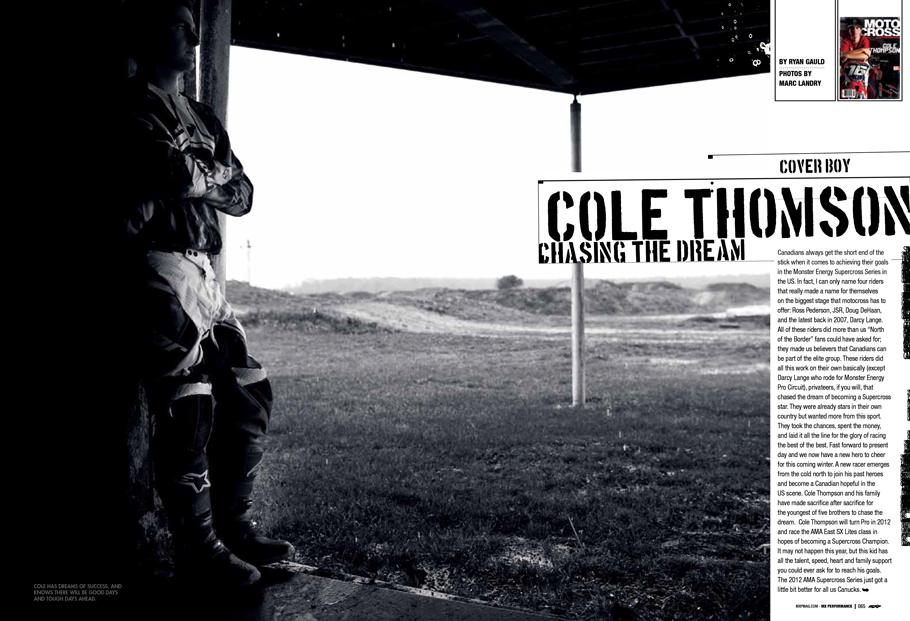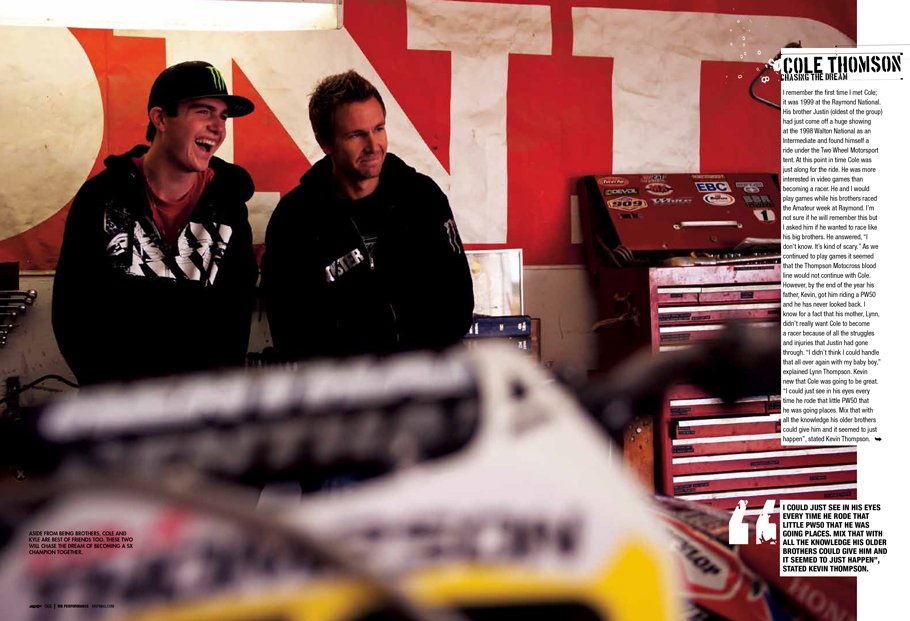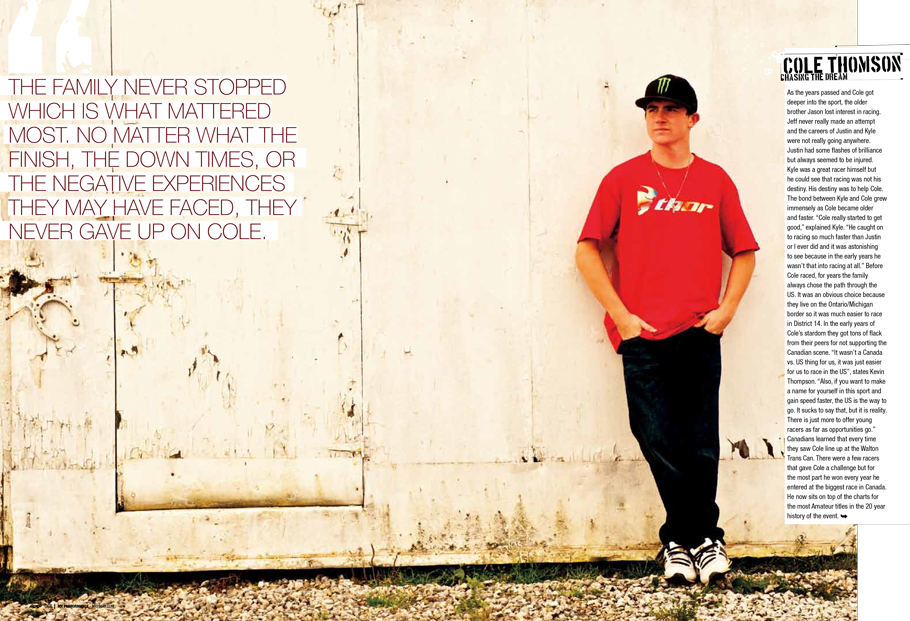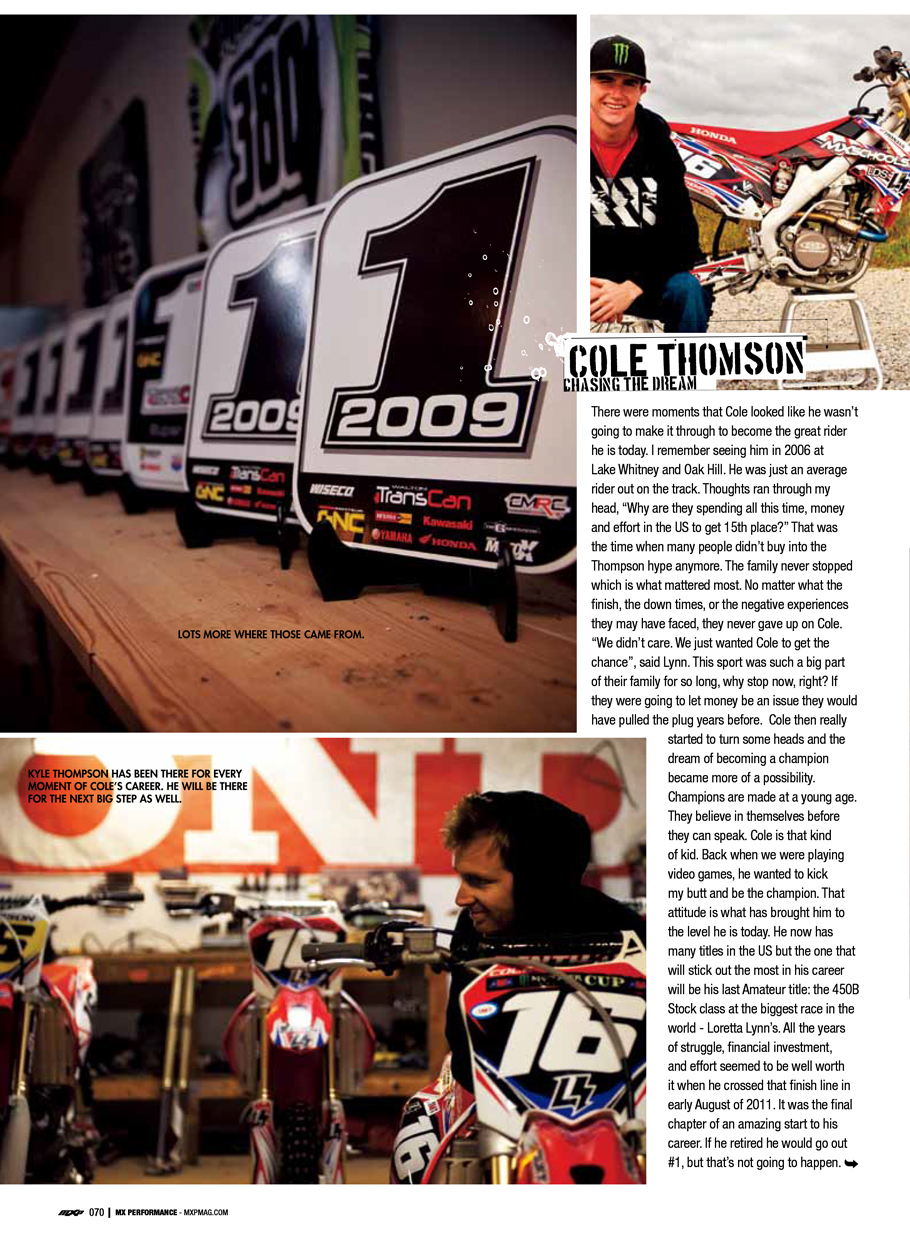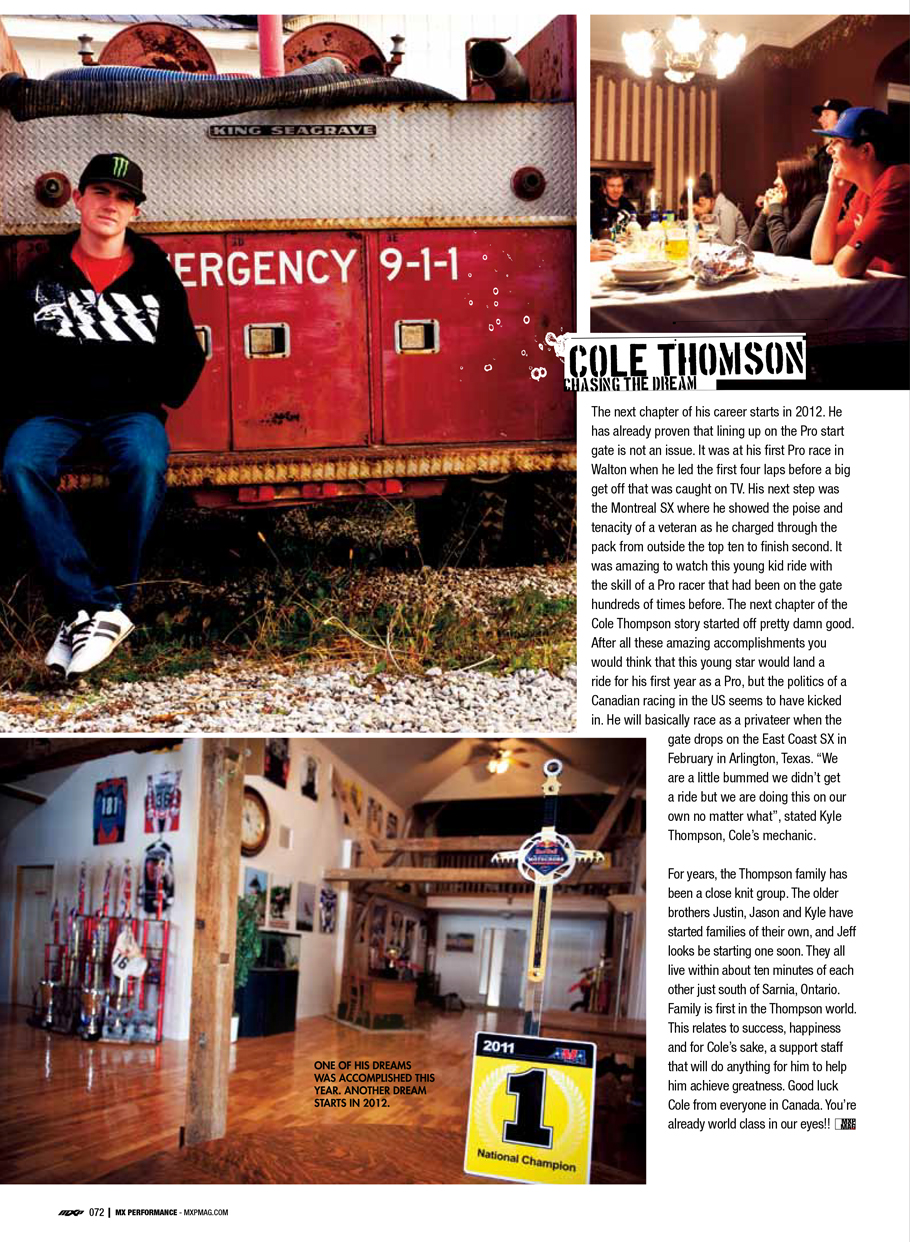 Mama 'T') rang the dinner bell and we all washed up for an incredible home cooked meal. Cole's brothers and their families joined us and it was a wonderful dinner to share with them.  Thanks so much for the hospitality!
The buildings on the Thompson property are rich with motocross history.  Other than action, my favorite things to photograph are environmental portraits.  In this respect, the Thompson's compound was a photographer's dream.  The weather spoiled any chances of getting shots of Cole on the track but there was enough to shoot on location to keep me moving.  They have a killer shop and a barn filled with memorabilia commemorating the family's noteworthy history in the sport.  After dinner we headed to the loft above their barn to record Cole with some of the culture up there.  We had a super fun night playing pool, ping pong and watching Fuel TV.  It was really a great time.  The Thompsons opened their home to us and we spent the night there.  In the morning we woke to the smell of yet another one of Mama' T's delicious meals.   We wrapped up with a few last exposures in the loft before saying our goodbyes.
I can't thank Cole and the Thompson family enough for their hospitality.  I hope that you are happy with your cover and feature.  Thanks to Gauldy and Frankie for a truly awesome trip.  I had a blast on this shoot with you guys.   Big ups to Peter as well for doing such a great job on the cover and layout of the mag.  It's an honor to work with you guys.  I am off to the Toronto Motorcycle Show to grab a stack of these and I hope you'll do the same!