Photo Report from Centurion at Blue Mountain
This weekend I was covering the second annual Subaru Centurion Canada race at Blue Mountain.  Perfect temperatures drew record crowds for this epic race through some of Ontario's most picturesque countryside.
I arrived at the resort early on Friday afternoon to meet with the organizers and get all the logistics for the shoot sorted.  I would once again be working with my colleague, Brian Hunt, who takes care of Blue's video requirements. Shooting a road race requires quite a bit of planning and a production/media vehicle.  You need to have a motorbike, van or helicopter to really do an event like this justice.  I've shot a few major road races and am usually set up shooting from the back of a minivan.  The main advantage of shooting from an official vehicle is its ability to freely move throughout the pack and stay ahead of the riders.  Without a production vehicle you must pick a few predetermined locations to go to on your own, making staying with the leaders impossible.  This greatly limits the possibilities and variety of images one can get.  No such vehicle was made available to us but we were given a permit to use with our own vehicle.  This ended up working out well in the end but not having to worry about driving and navigating while trying to cover the event would have been a much better situation in my opinion.   You have to work with what you have however and that's what we did.  Brian and I met for dinner on Friday night and came up with a game plan for the following days.
Saturday morning we made our way out along the course just before the 25 mile category start.  We didn't want to get caught behind the pack and searched for a location that would allow us several vantage points and shooting opportunities.   One of the areas that caught my eye was a section of the course called "Pretty River Road".  It sounded like the place to be: pretty? check!  It was also near the turnaround point and would potentially offer us twice as many shooting possibilities.   The caveat to this, however, would be that riders would be doubling back on the course here and, for my composition, I wanted riders going in only one direction.  This would also afford us a bit more leeway with the direction and quality of the light.  We drove most of the course and knew once we arrived at Pretty River that it was the spot.  The 25 mile race was an out and back so, once we got parked, we were pretty much locked in.  Making our way through riders traveling in both directions would be unsafe.  I made some nice exposures and used the area to its full potential.  Once the pack started to thin out a bit, we decided to get mobile and tuck in behind a smaller group of riders.  We successfully navigated our way through the pack, catching shots on the fly and pulling over in areas we thought merited us doing so. My little Subaru is great to shoot from!  We made our way back to the village to cover the awards ceremony and get repacked for the next event. The light was a bit dull on this day but I found pockets here and there and worked with what was available.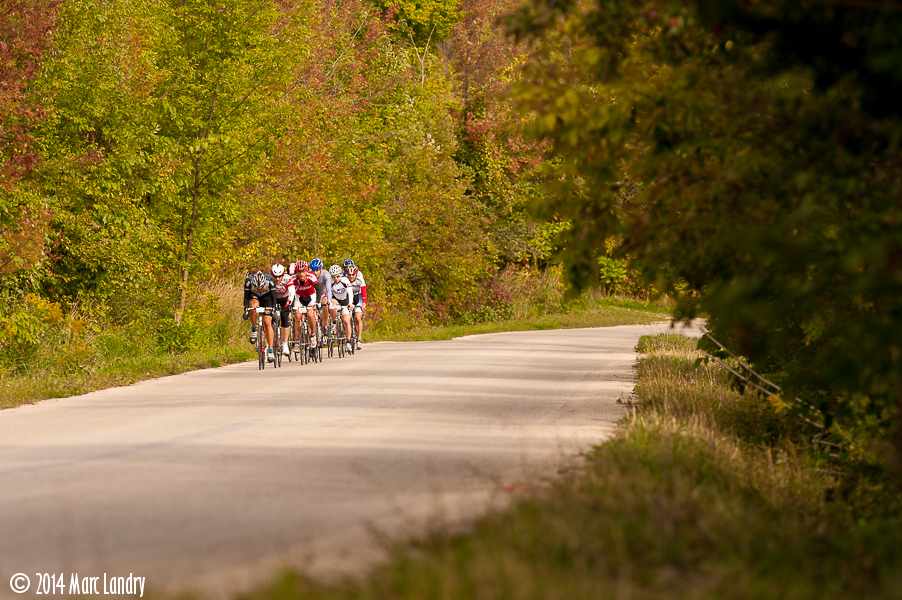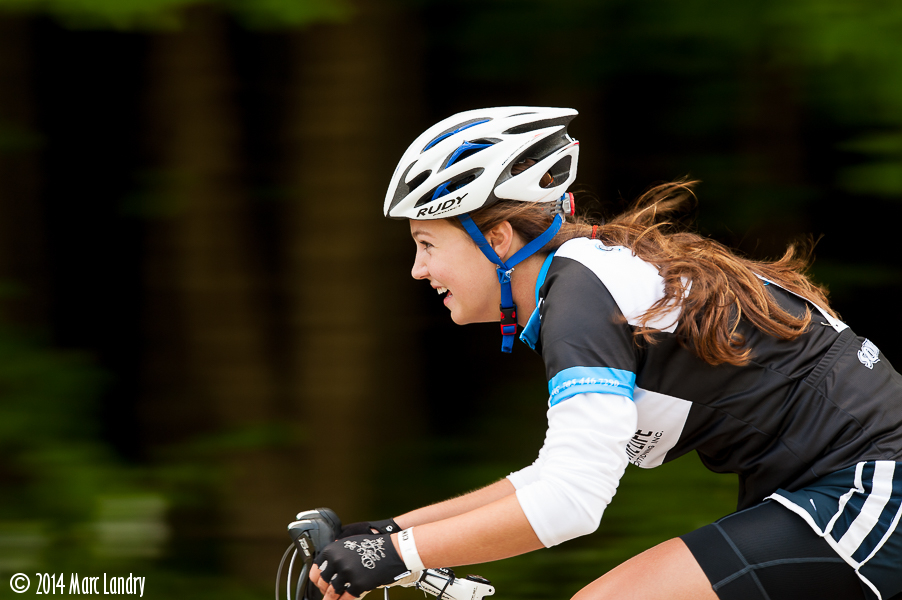 The finals of the hill climb took place on Saturday afternoon. To cover this race we drove up Scenic Caves road.  We had originally planned to go right to the top but I spotted a nice location midway up that had nice light falling on it.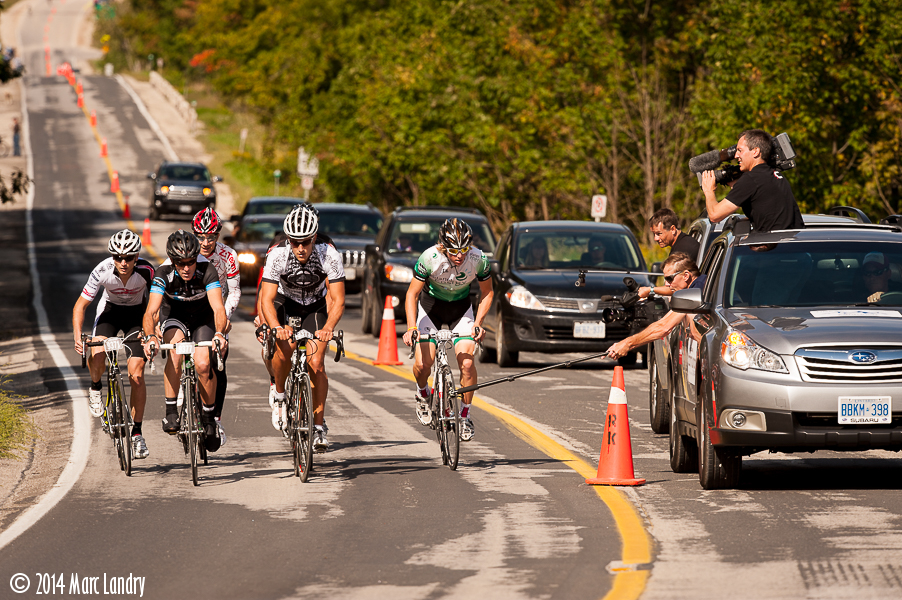 At 4:00pm we made our way back to the village to photograph the Sam Roberts concert.  The village was absolutely packed and it was a beautiful afternoon.  You could feel summer coming to a close but she shone bright for the spectators who came out to see the incredible performance by the band. I shot from on the stage during the opening act then up front and behind the huge crowd for the big show.  I really wanted to convey just how packed the village was.  We tried to gain access to a balcony overlooking the show but every room was sold out!  I'm really happy with the images I got and think you get a sense of the energy and crowd on hand.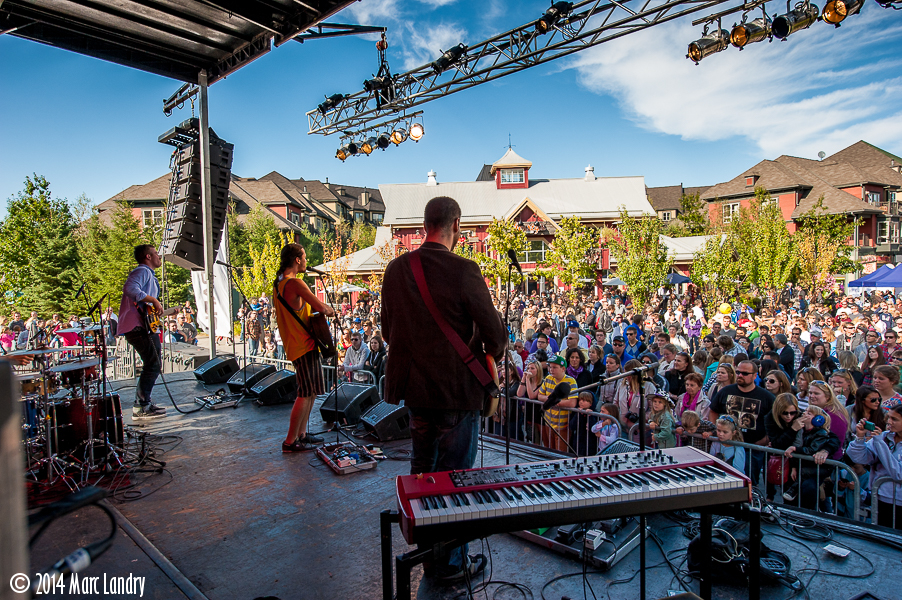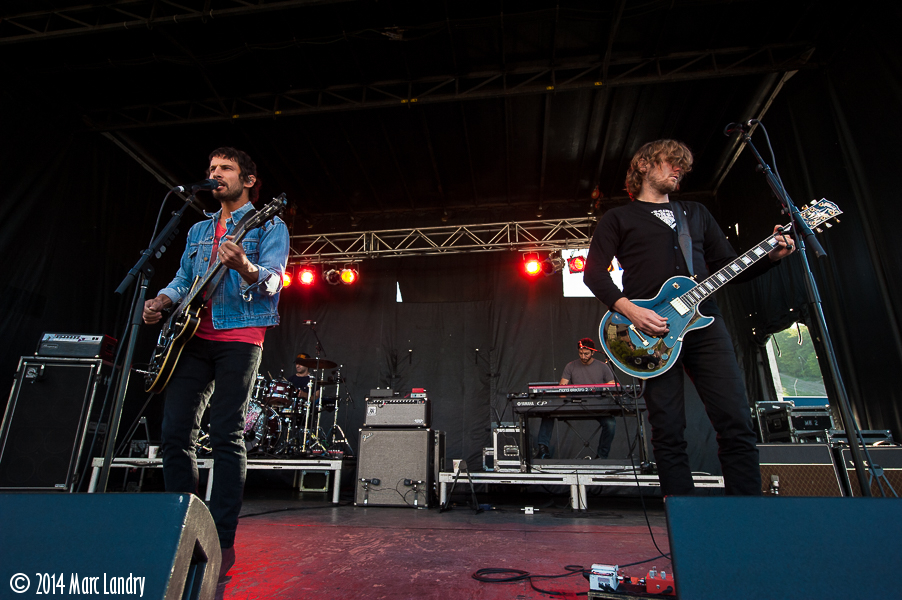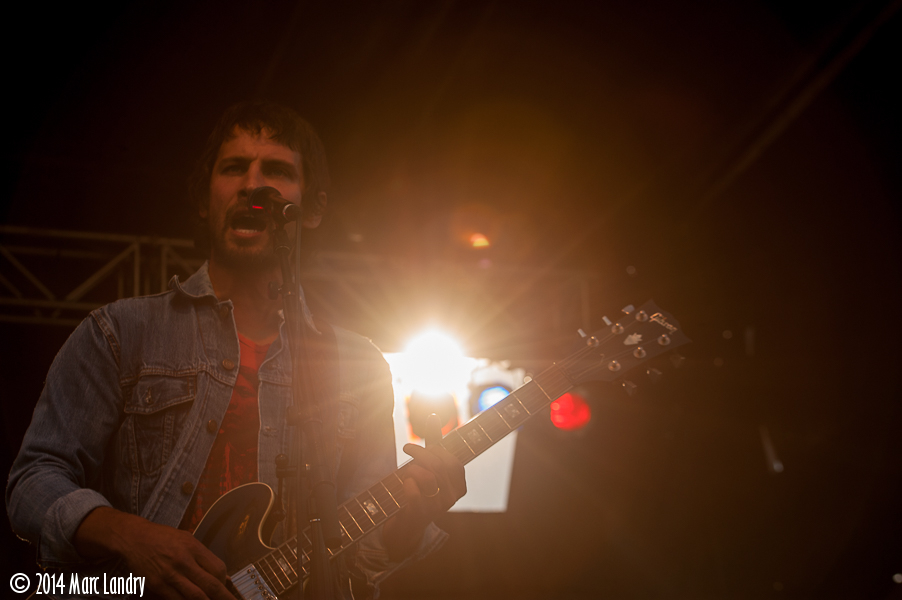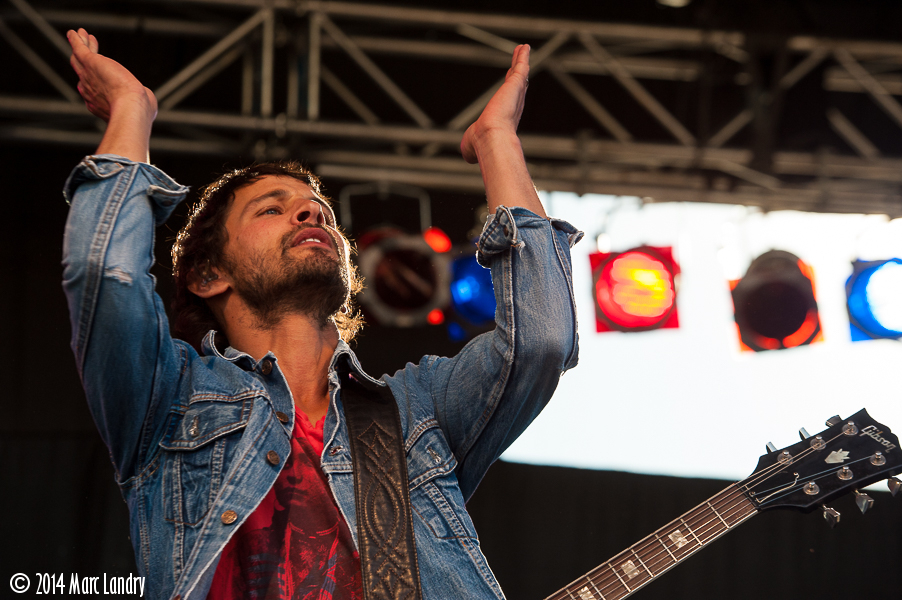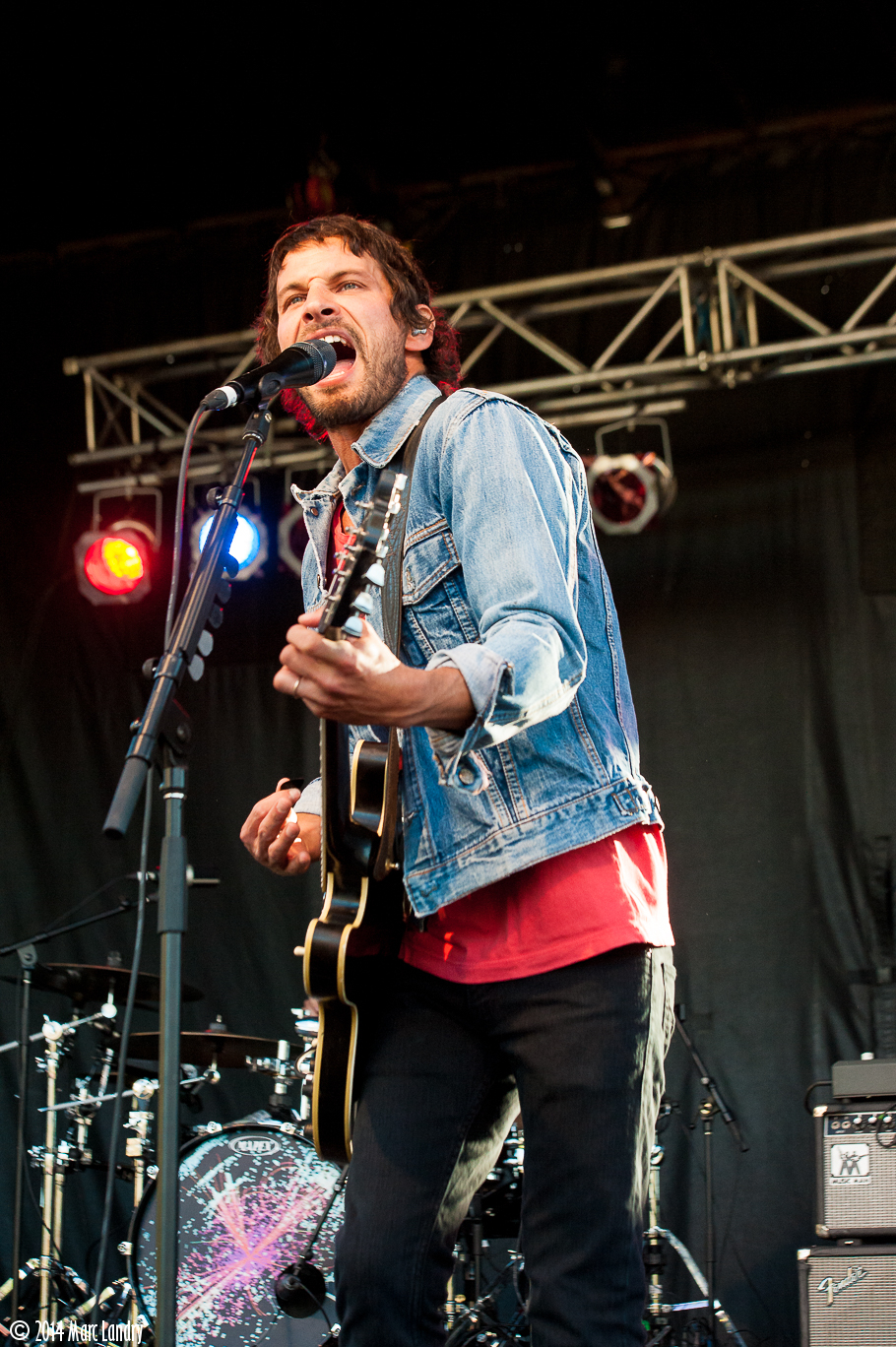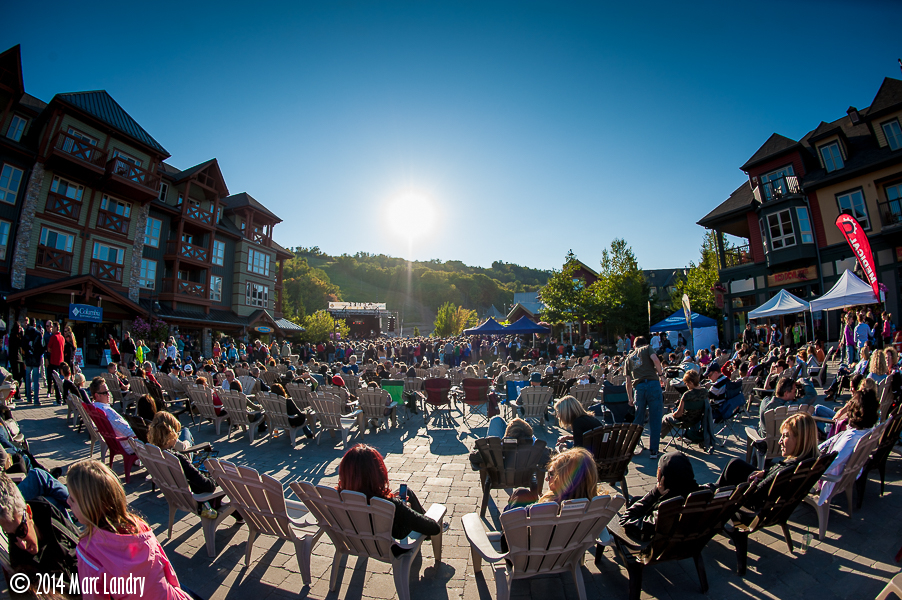 Brian and I met once again on Saturday night to make final preparations for Sunday's big races, the 50 and 100 mile categories.  We both wanted to capture the magnitude of 3000 racers staged in the village.  Our plan was to be out there at 6:00am to capture the registration and racers gathering.  We had made arrangements to shoot the staging from the roof of the convention center then 'book it' just before the start to our first position.  We had selected an area not far along from the start in the hopes that we would get the pack together.  From there we had a route planned that circumvented the course to the two other locations we had scouted.   The fact that Brian and I ride and shoot in the area really helped us determine what locations would look good and when.  A little backroads knowledge came in handy as well.
The next morning, I woke at 5:00 am, checked out, loaded all my gear in my car and packed my day kit.  For this sort of event I chose to use my modular belt and pack system vs. using a bag like I do on mountain bike shoots.  I knew I would have to move fast and this approach worked well.  I got very proficient with it shooting moto this summer and liked how it worked for me this weekend as well. I also used my Black Rapid RS DR-1 Double Strap.  I used my D3 and D700 bodies with my 200mm f/2, 70-200mm f/2.8, 14-24mm f/2.8 and 16mm f/2.8 fisheye.  I used a TC-14e teleconverter with my 200 f/2 making it a 280mm f/2.8.  I've been really happy with this setup and that lens continues to impress me.  Here is a quick shot of me with my kit.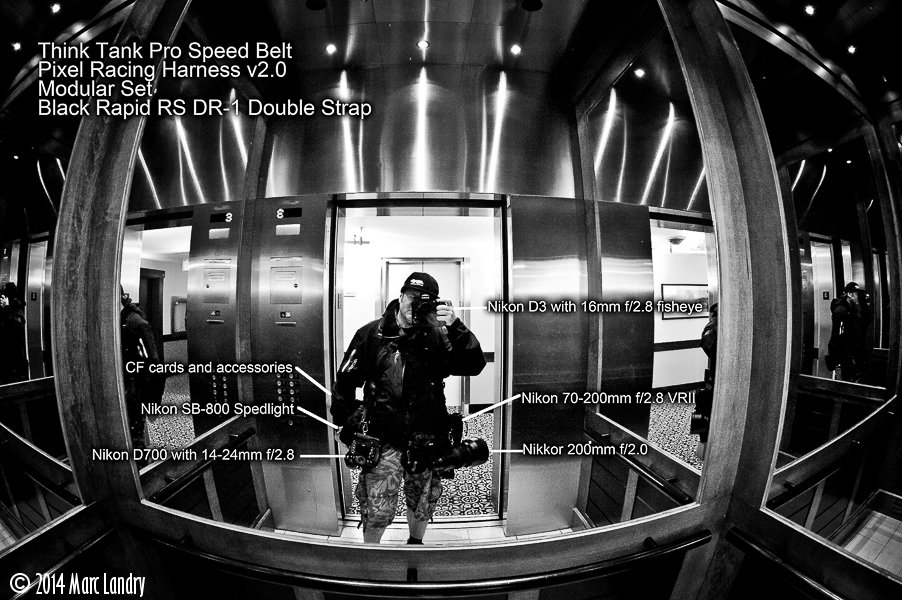 All the gear and planning in the world can't help you if you don't clue into the fact that summer is ending and that it's pitch black now at 6:00am.  I felt pretty silly coming out of the underground, all keen, and only then realizing this fact.  I guess it's been a few weeks since I planned a shoot at dawn.  That did however make some of our morning shooting decisions a lot simpler and the call was made to get to our first spot. Brian had an assistant, David Stewart, on Sunday and he took care of the driving for us. David is a videographer and photographer as well and was kind enough to grab some behind the scenes images for us.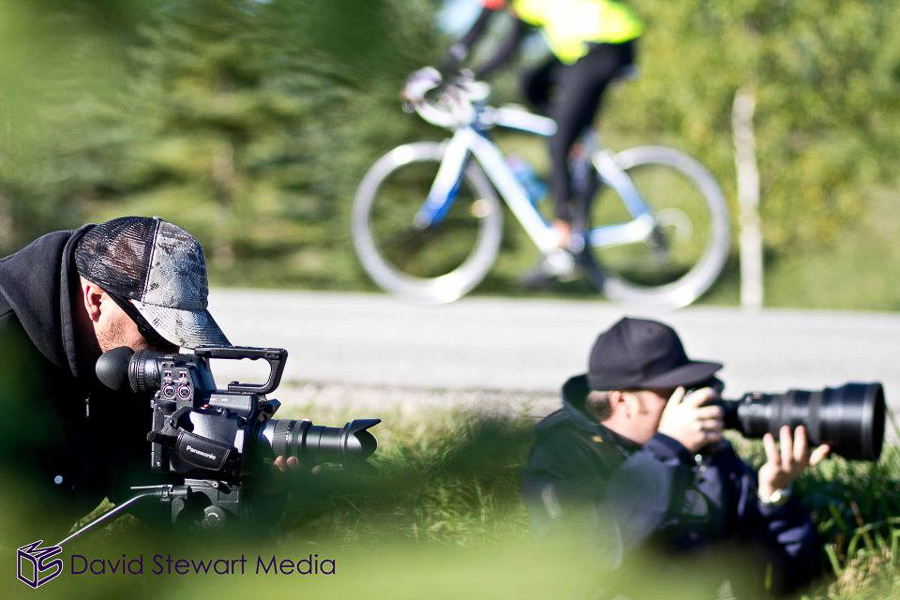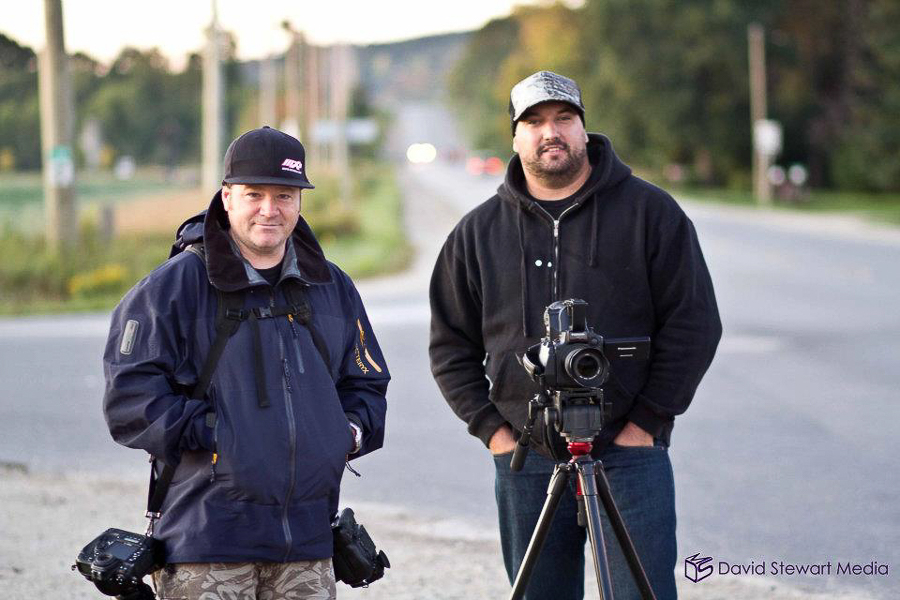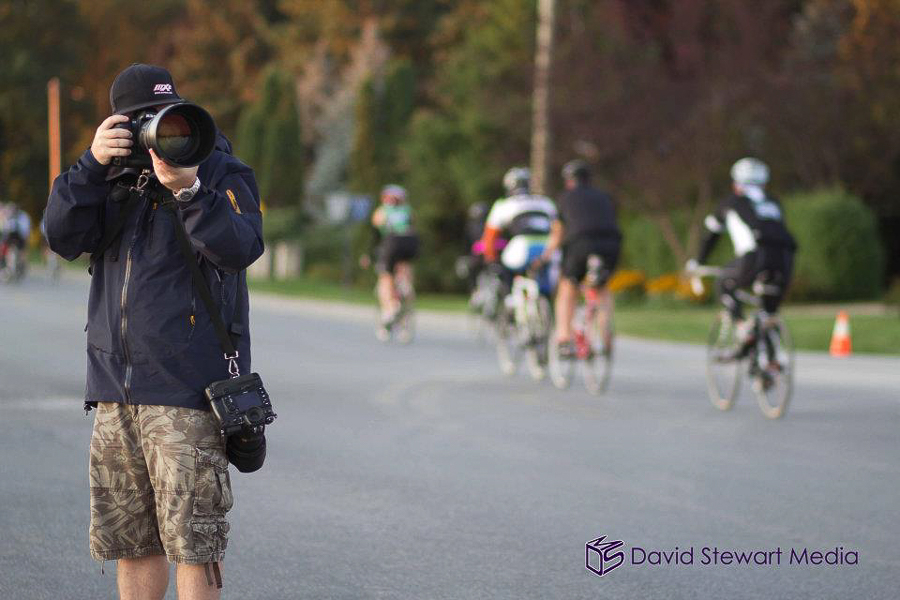 We got to our first location and, much to our delight, the pack was still together.  I did my best to convey the scope of the participants.  This event is truly epic and I really wanted to show that, to the best of my ability.  Knowing that following the leaders and telling the story of the race was impossible, I concentrated on trying for the best looking images from along the course.   It was still very early when the first riders came though and while the light was gorgeous, it was still quite dark. I shot these first images at ISO 6400 – thank you Nikon!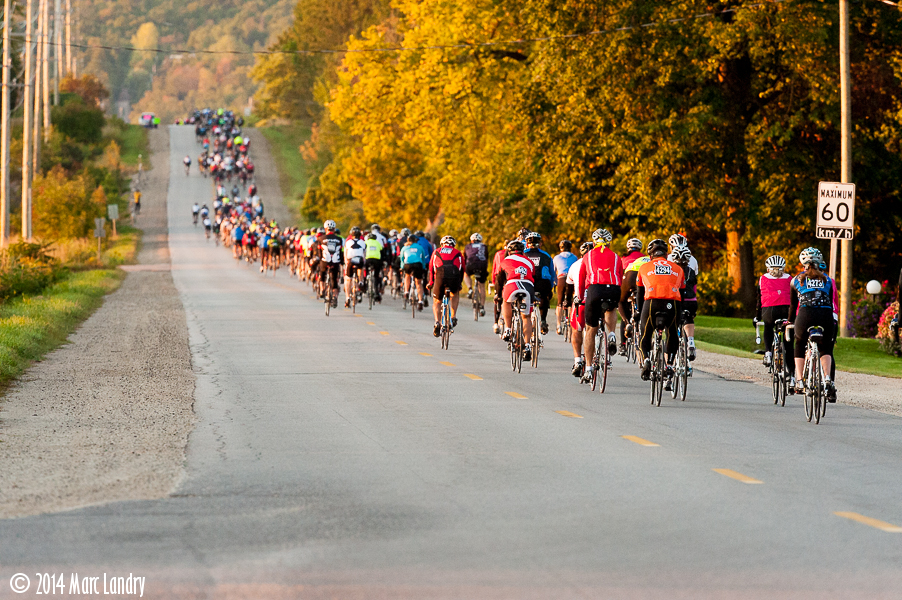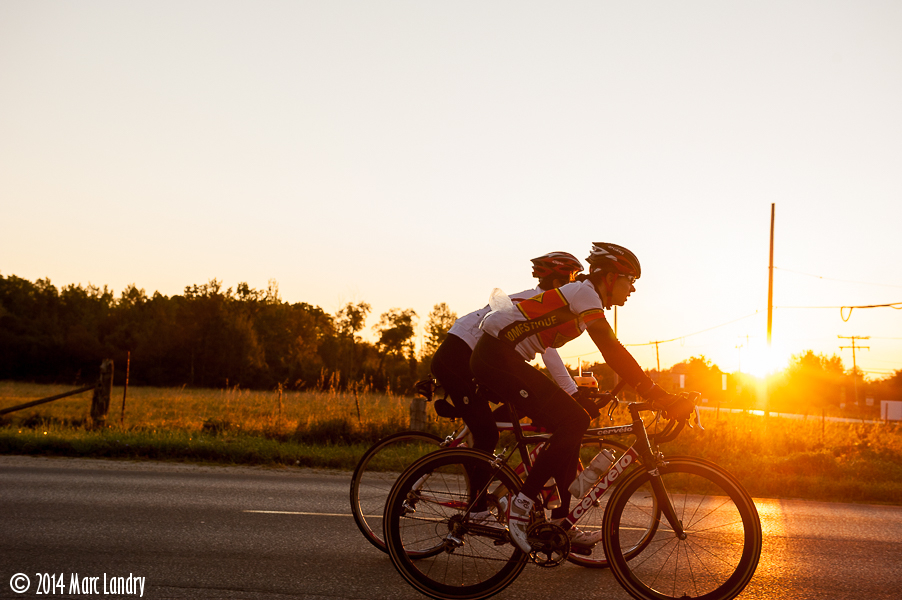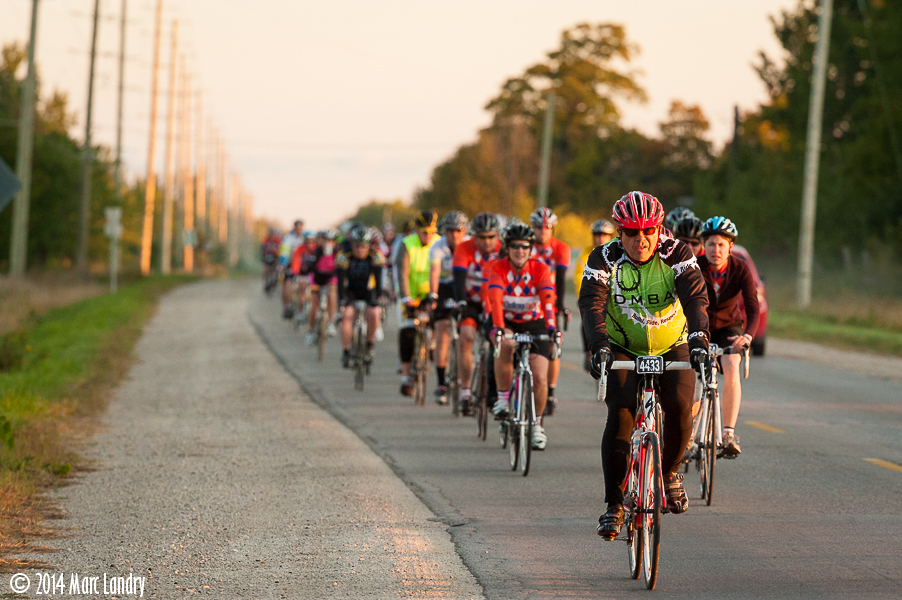 The second vista I selected was atop one of my favourite hilltops in The Blue Mountains. Along a road I use on my numerous commutes to Blue where I find it so beautiful that I have often pulled over to capture it.  I have several prints in my house from locations along that road and knew it would be a great spot for this.  I chose a scenic location near the highest point for us.  We had good success driving and shooting amongst the riders and stopped at areas that caught our eye. It was great to have someone else behind the wheel, leaving me to focus on the action.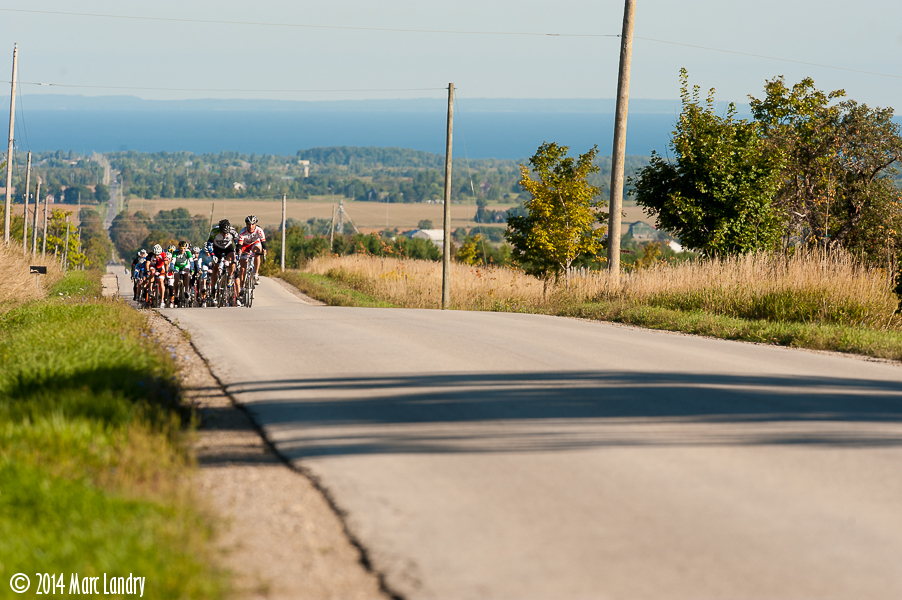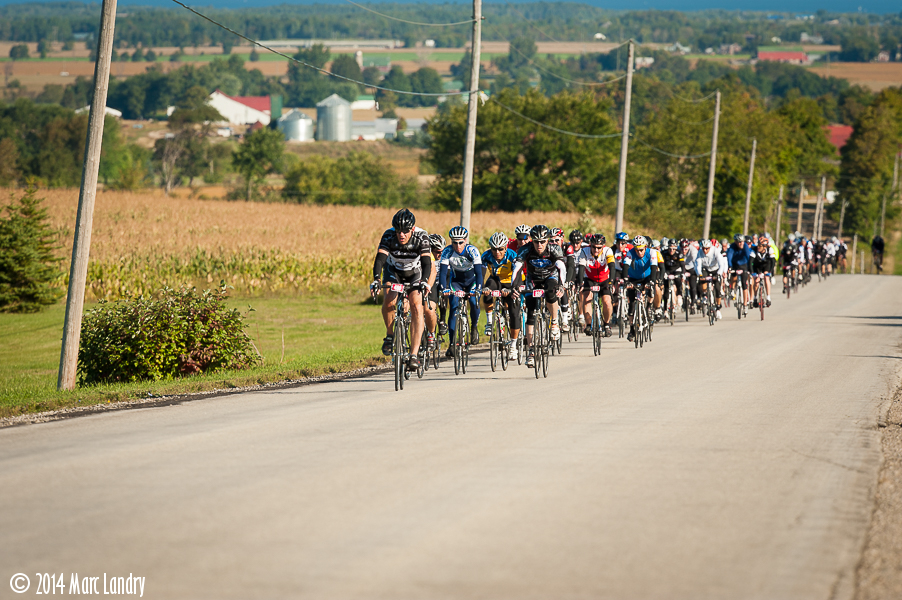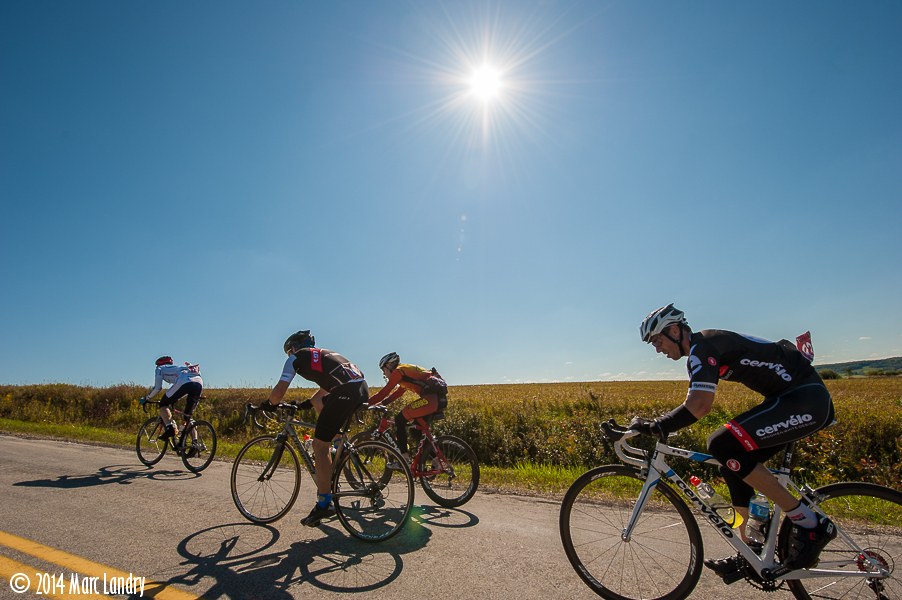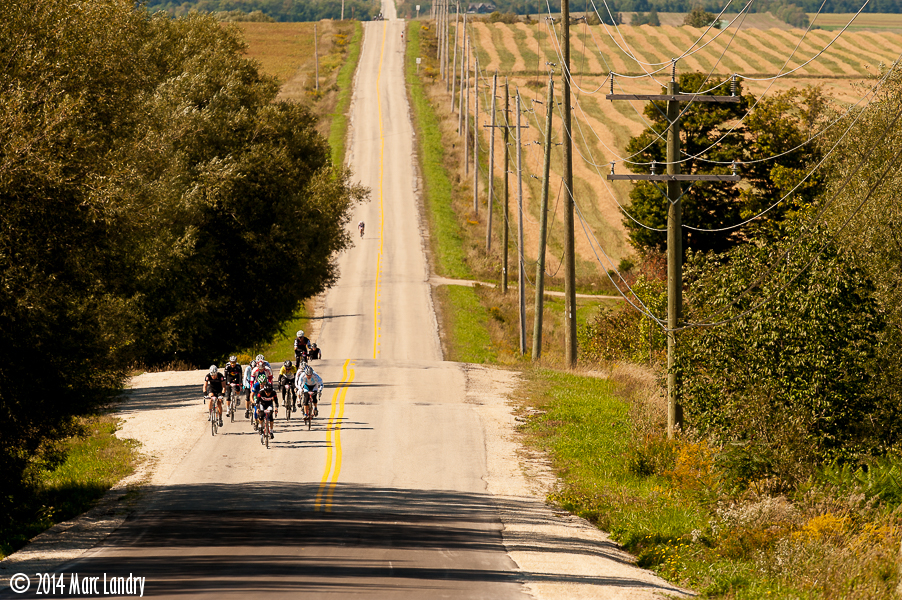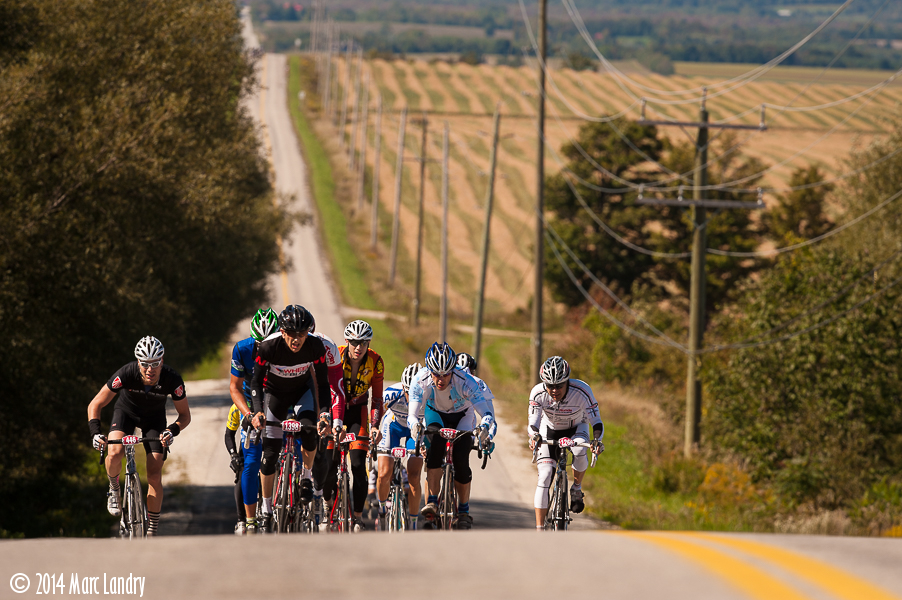 This truly is an amazing event and the turnout was incredible.  The village was jammed and the folks at Centurion really made great use of Blue Mountain and its beautiful surroundings.  Thanks to Erika, Dak, Pete, Colin, Kevin, Heather and all the great staff at Blue for their help throughout the weekend.  Thanks to Helen and the team at Centurion for helping us cover this event for Blue Mountain. Thanks also to David for getting some great images of me and Brian in action.
Over the weekend I was asked by both Brian and David about what type and brand of Compact Flash card I used.  I proudly said SanDisk and went on to say (jinx myself) that I had never had one fail on me.  Well, one did.  I got a formatting error message during import and was certain I had lost everything from Sunday.  I had already captured and backed up my images from Saturday, but I feared that Sunday's images were lost.  I tried a card recovery program I have had some luck with in the past and was fortunate enough to be able to recover all my images. Phew!