Photo Report From CMRC Pro National MX6 in Ste. Julie
Round 6 of the CMRC Monster Energy Motocross Nationals went down in Ste. Julie, Quebec this weekend.   The temperatures had cooled down since Gopher Dunes but the racing was still plenty hot.
I had originally planned to head to the race in the Stallywagon with Mark, Brian, Paul and Marc but my gear would have put us over the top and even my best Tetris packing job wouldn't have cut it.  I wanted to bring my Ranger packs in case there were any opportunities to grab some portraits on Saturday and with those I pretty much fill my Forester.  Ben Milot was going to be doing a freestyle show and I wanted to grab some lifestyle images of him.  I plan on bringing my studio kit with me on the road to any event I drive to.
Brian Koster, MotoXRadio Show and CMRC series broadcast host, decided to tag along and share the drive with me. We left on Friday, just ahead of the other crew, to try and avoid some of the nasty construction entering Montreal.  On my way to meet Brian, while stopped at a set of lights, I looked up and an ad on the back of a TTC bus caught my eye.  It was one of my shots for Blue Mountain which was being used in a city wide campaign for their new mountain coaster, the Ridge Runner.  I was aware of the campaign but this was the first ad I have seen.  Blue is a great client and I was stoked to see the ad, it looks great.  I am told it's also on billboards throughout the city so let me know if you spot one.  Here is a quick iPhone grab of the bus.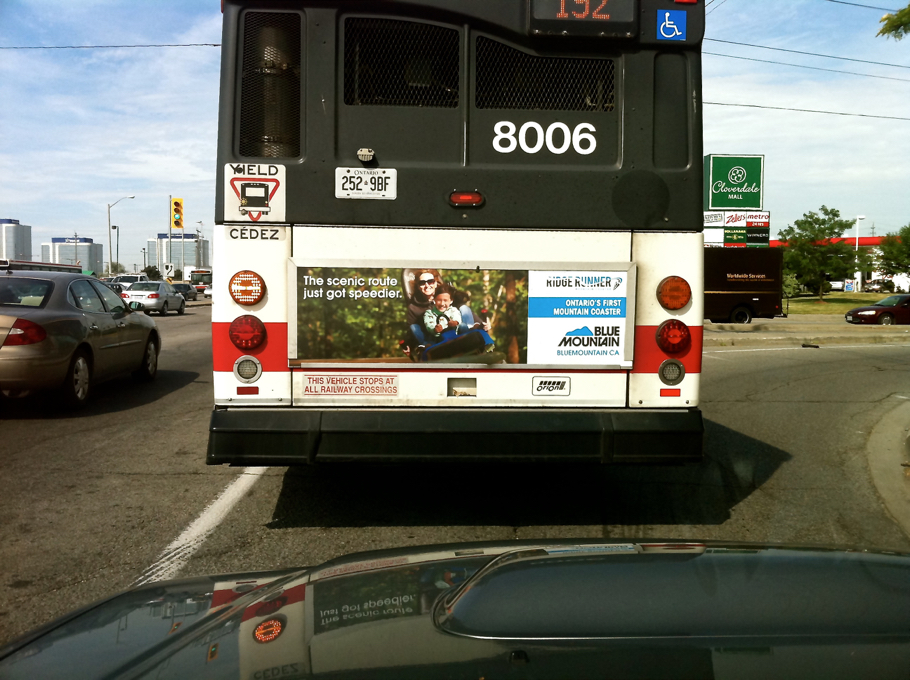 Brian and I had a fun drive, listened to some killer tunes and made good time to Ste. Julie.  We all had a great dinner that night, except for the three unlucky souls who got food poisoning from the prime rib.  Guess it wasn't so 'prime' after all.  As hard as it is for me to get away for the whole weekend, part of what I like best about the series so far is the tight group of people I am privileged to travel and hang out with.  Later in the evening we all sat around and watched the DVDs from the Western races.  I know what it's like to be an artist and be around when people see your work, it can be scary.  I've also done my share of video work and know what it takes to pull a show like this off.   Marc Travers and his team do an amazing job and I really enjoyed watching the show with the team.  Everyone was very positive and supportive.  My six degrees with Trav' is that he did a show called Competitive Edge over a decade ago about downhill mountain biking at Kelso.  I was one of the racers he interviewed.
As with the previous races, I wanted to be in the pits the day before the race to get some relaxed candids and get to know anyone I haven't met yet.  This race didn't quite have the same vibe as the other races and the lifestyle wasn't quite there – that happens.    I think the shakedown everyone was getting at the gate was a bit off-putting.  People seemed pretty stoked on my last photo report and liked the new look of the combined images, guess I better keep it up then.  Here are a few shots from Saturday.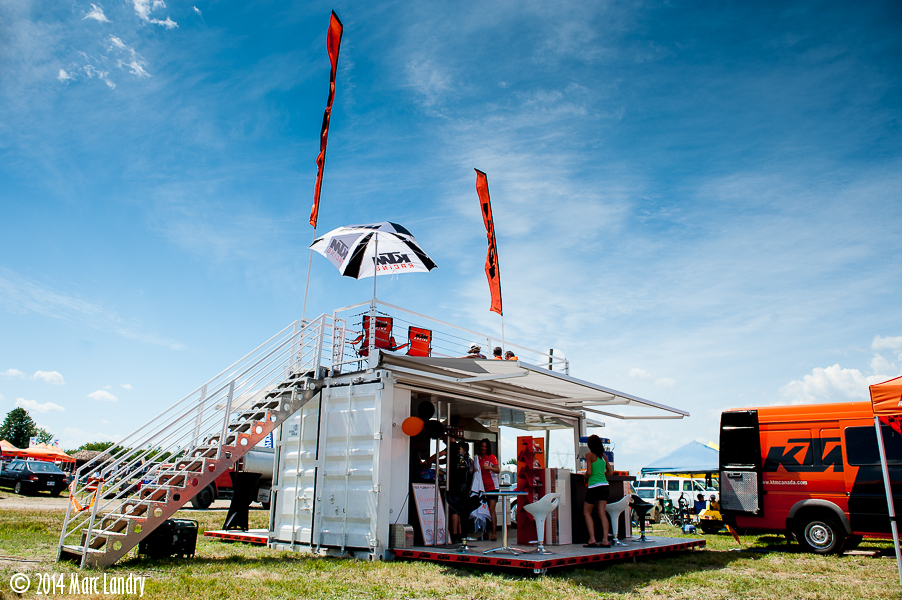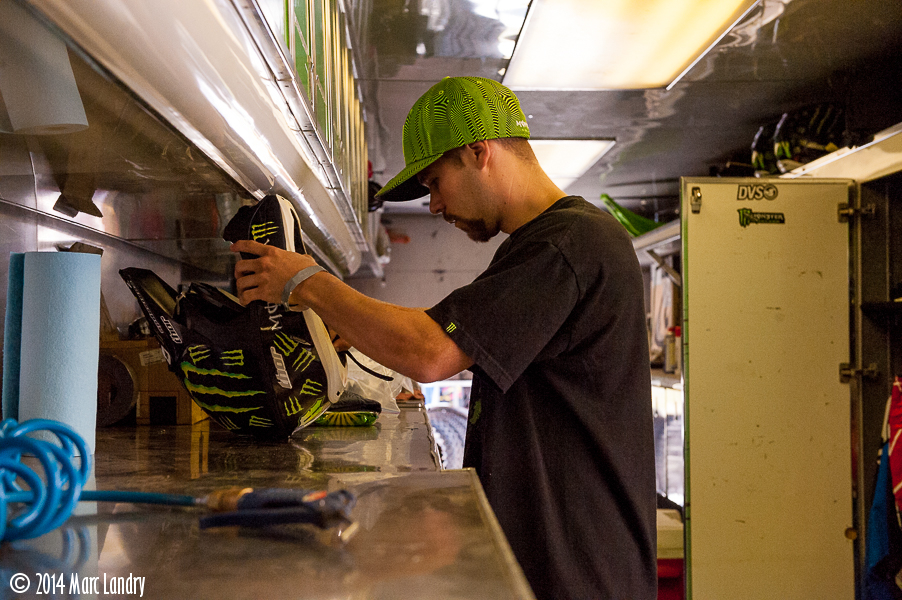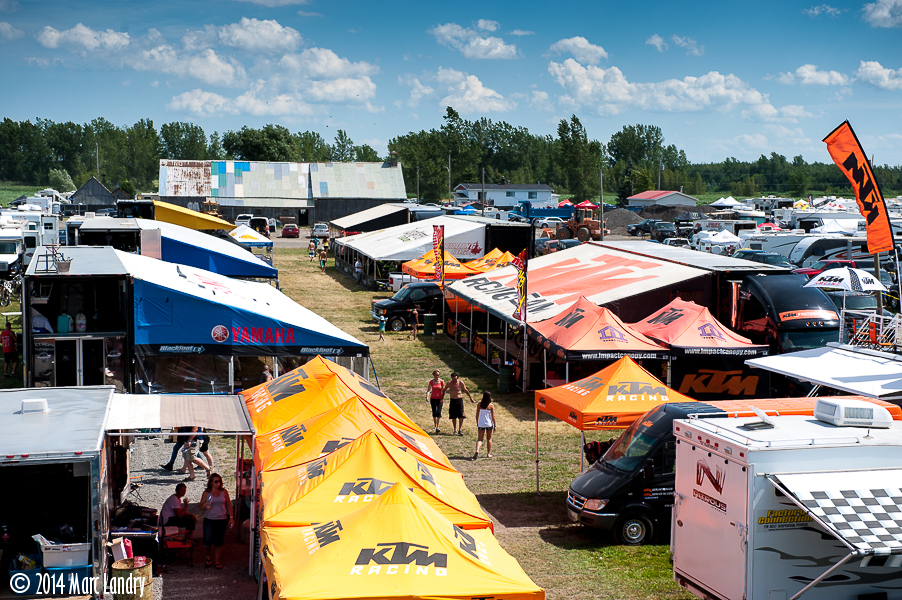 On Sunday I headed in early to try and get some of the nice morning light which is usually present for the riders' meeting.  The light wasn't as nice as it was at Gopher Dunes but I still got a few shots I like.  This venue had great potential, photographically, but I really struggled to get clean backgrounds and killer action.  I'm happy with the images I got but hate knowing that had things been different I could have got even better stuff.  The track seemed very "one-line" and telling the story of the race in a single frame was challenging.  I hiked all over the track to try and find a location that suited my style but, like the other photographers, had to stay close to home for the main motos.  I usually research an event before I photograph it – see what has been done, not done and see if I can pre-visualize something I'd like to capture.  This helps me decide what kit to bring as well as the direction of the light throughout the day.  I didn't find any great shots from this venue but came up with a game plan that worked for me.  For this race I used my 70-200mm f2.8 and 200mm f2 with a TC-14E teleconverter, giving me an effective focal length of 280mm. I managed to find a nice hip to shoot during practice and a few dusty berms during the race.  It wrecked my gear but I love the shots.  It really limited my chance of getting a clean pic of everyone but I decided that a killer pic of a few guys was better than a bunch of mediocre shots of everyone.  I think I made the right call.   Here are a few of my images from race day.