Shooting the Wade Simmons Camp At Blue Mountain
This marks the fourth year that I have been fortunate enough to ride with and capture the Wade Simmons Clinic at Blue Mountain Resorts.  Like all of Blue's cycling related programs, they are committed to this camp.  No other cycling facility in Eastern Canada has stepped-up like Blue has to grow lift access riding.  Having a bike camp with an instructor like Wade further demonstrates their dedication to ensuring a safe and progressive growth for the sport in the region.  Wade needs no introduction and his prowess on a mountain bike is legendary.  As impressive as Wade is on the bike, it is his people and business skills that have allowed him to remain at the top of a very competitive sport. I've known Wade since the beginning and it's always nice to catch up while he is here for the camps at Blue.
This has been one of my busiest years since I started FastTimes almost 12 years ago.  Since shooting the motocross race in Morden three weeks ago, I have only been home for a few crazy days.  Summers are short in Canada and on any given weekend I could have 3-4 conflicting shoots.  The camp with Wade is always one that I enjoy and look forward to every year.
I left the city early on Saturday morning in order to arrive at Blue in time to get my bike rental and pass before the camp started.  I have always had a downhill bike but over the last few years I have gone back to trail riding, my roots.  I still love to ride DH though and it's one of the reasons I look forward to the camp.  I would normally have 50-70 days in the saddle by now but this summer has been so crazy that I haven't been out once.   This is unheard of for me and anyone who knows me that is reading this is probably on their way over for an intervention.  I am pretty bummed about it but hope to have an epic fall on the trails.  So my first ride of the year would be at Blue with Wade, things could be worse.
Wade starts off the camp with some basic bike setup.  He goes over things like suspension setup, tire pressure, and brake/shifter positioning.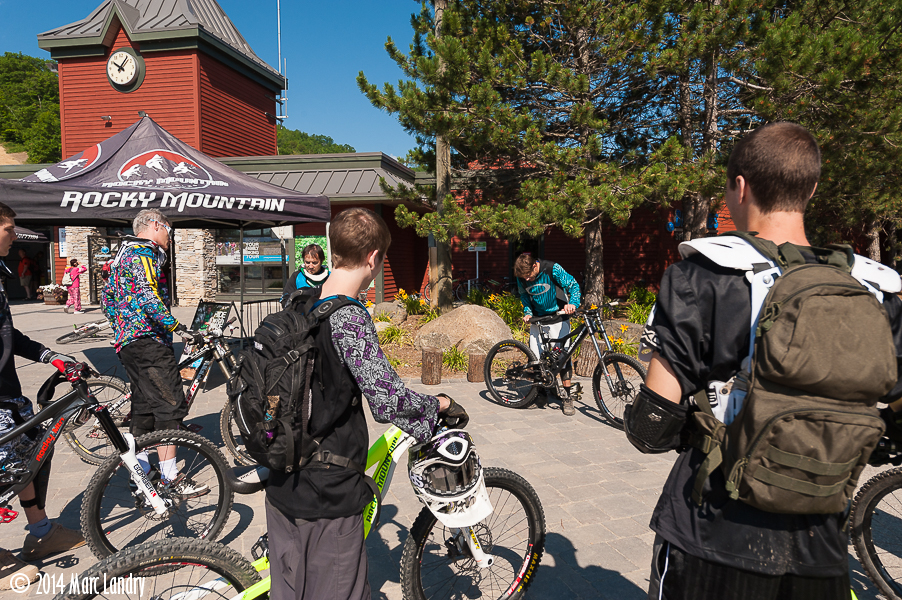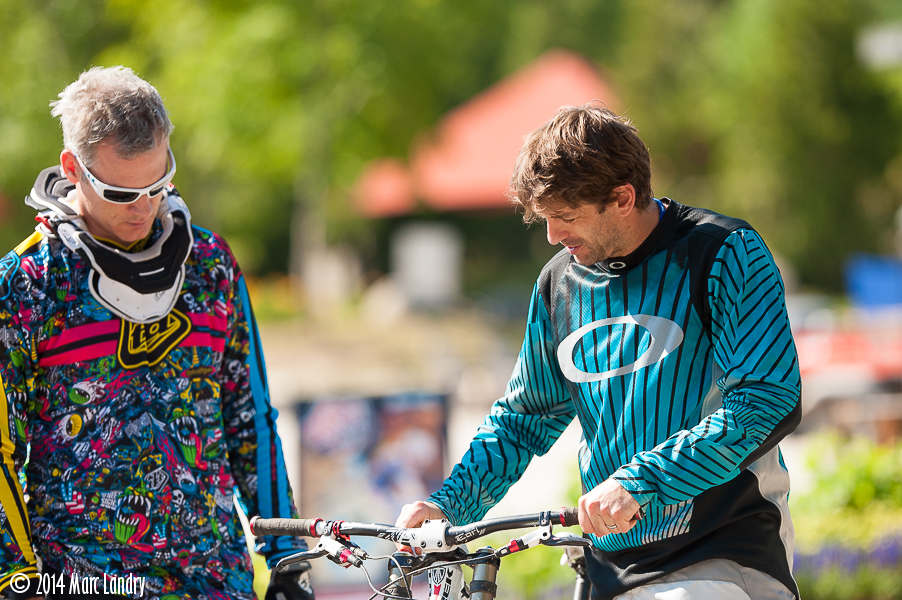 Once everyone has their bikes set up correctly the group makes its way up the gondola and rides over to the pump track.  This is where Wade explains body position and the techniques required for riding different aspects of a trail.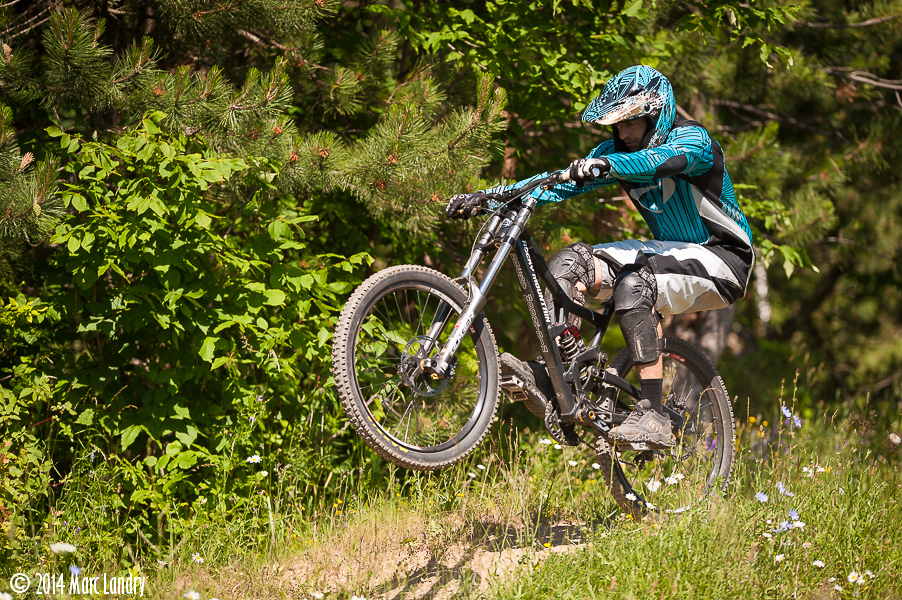 From there, the group moved on to some of the drops and other features the team at Blue adds specially for the camp.  Mike Towers and Keith Grant were also on hand helping with the clinic.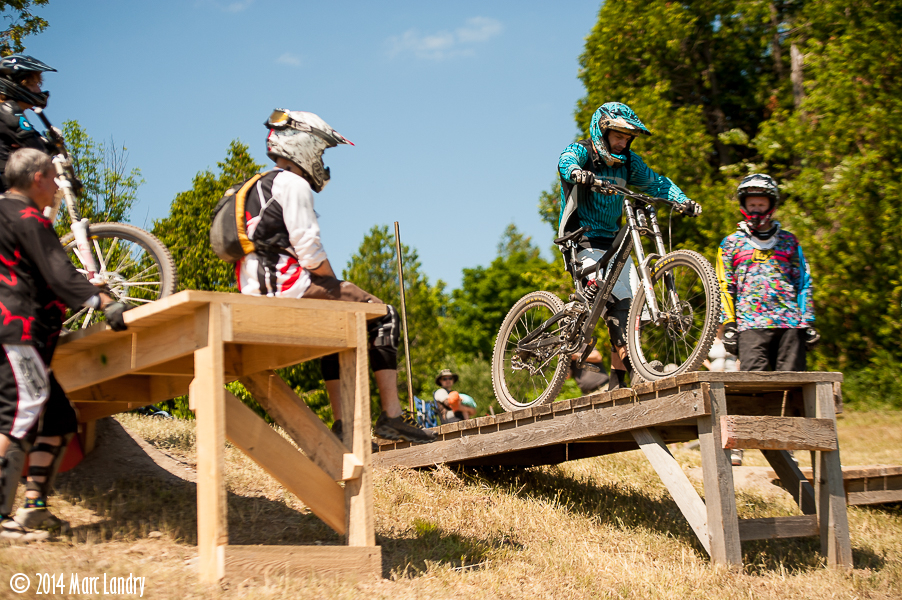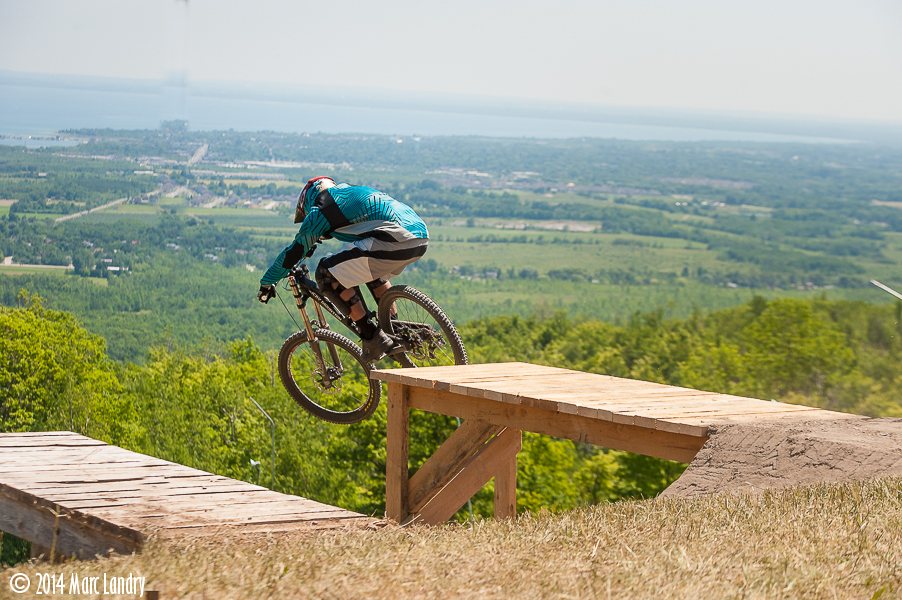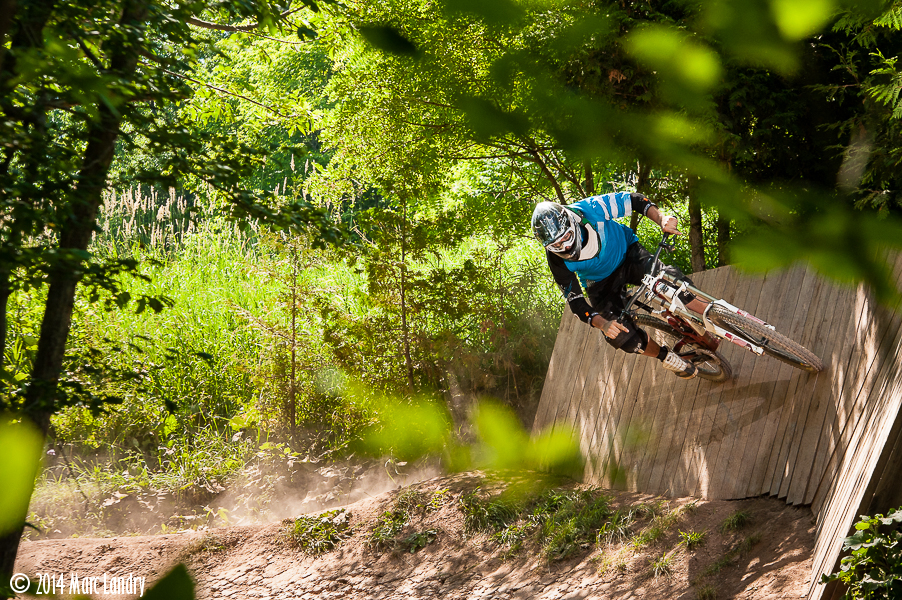 The camp wraps up in the Village where Wade gives out prizes and offers valuable feedback to all the participants.  There was a great group this year and everyone had a blast.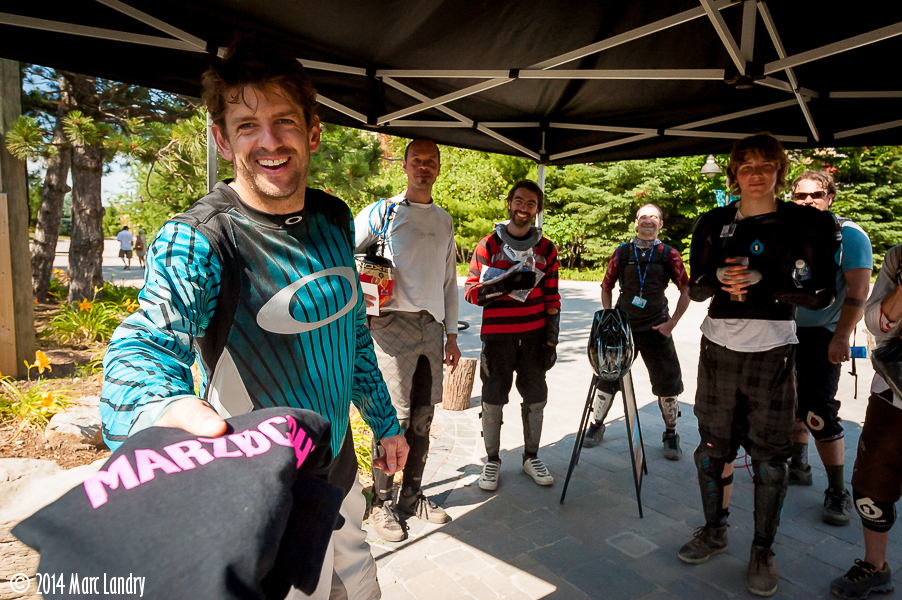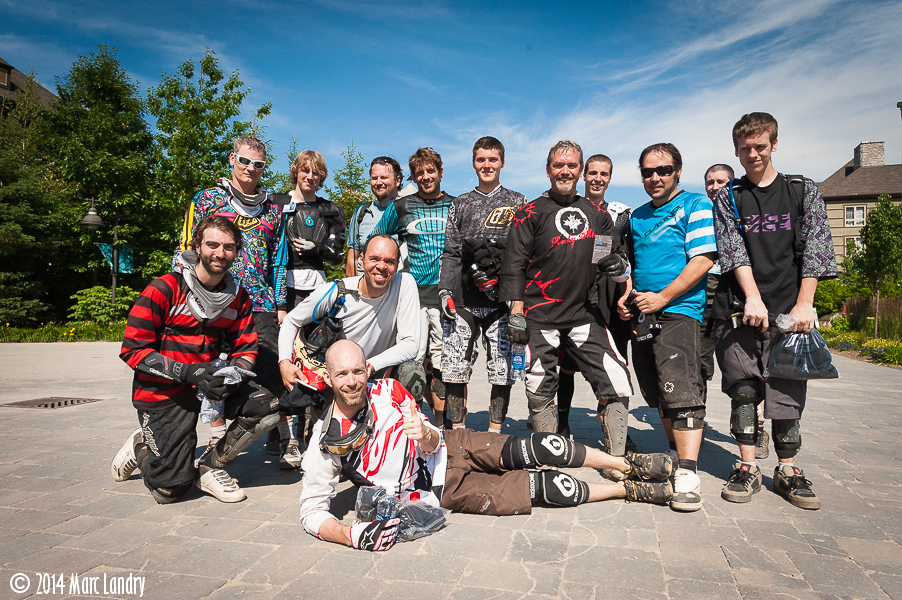 Every year I try to get out and shoot with Wade a bit at the end of the day.  We're usually both pretty tired but give it an honest effort.  There are copies of Mountain Life all over the village with a beautiful double page spread featuring an image of Wade I captured at the end of last year's clinic.   This year Tyler Pratt, Keith Grant, Kyle Easby and, Rob Carmichael came along for some fun.  They are all amazing riders in their own right.  I had originally planned to shoot some of the sweeping turns in the tall grass but it had recently been cut. I brought some camera mounts and was going to try for some killer POV images.  The light sort of fell apart after the clinic though so I decided to try my luck in the woods.  I was looking for something identifiable as Blue but different from anything I had shot there before. I am pretty stoked on this shot!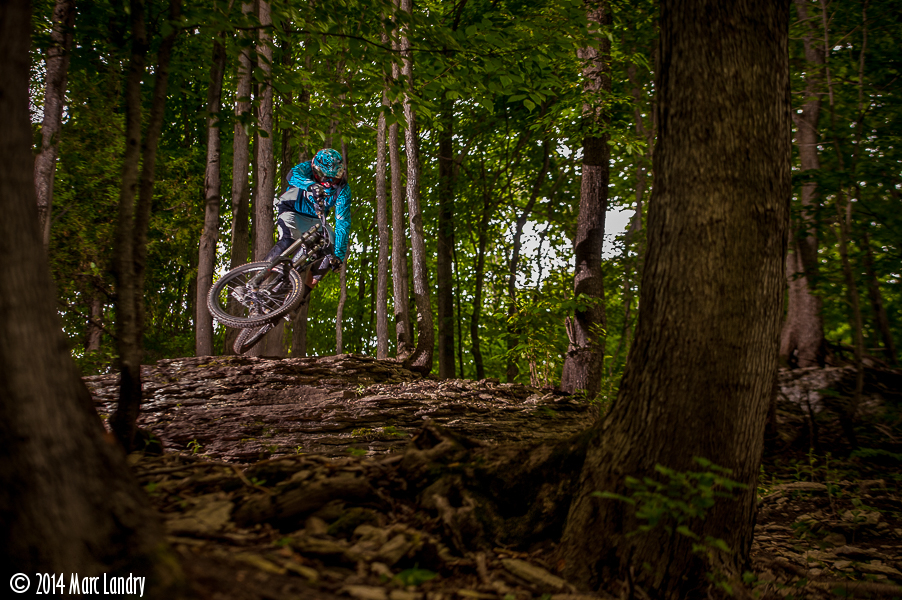 Huge thanks to Kevin, Peter, Graeme, Mike and all the staff at Blue Mountain for putting on such a great camp.  Thanks to Wade and all the riders for a super fun day of riding the best vertical in Ontario!  See you all next year.